Ski-Areas > Pyrénées > Pyrénées Orientales (66) > Cerdagne > Porté Puymorens > Off Piste
Contents
Rickety old ski lifts and debonair ski runs are not the main attraction of Porté Puymorens, neither is the snow park. No it is the famous Cerdagne couloirs that had drawn us to the spot.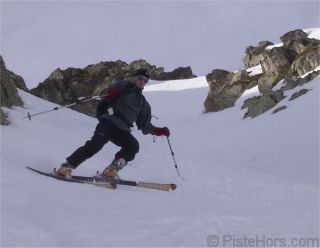 Full Throttle in the Puymorens' Couloirs
Now some people don't like the deep, rugged valleys of the Ariège and Pyrénées Orientales, they find them too dark and gloomy. But drive beyond Ax les Thermes, high into the border country and the landscape opens out into flat valleys surrounded by short, sheer cliffs. Puymorens' lift system will get you to the top of these valleys with little effort, but to access the exciting off piste on offer you will need to climb higher. Where you climb will depend on the snow conditions and the position of the sun. East facing slopes should be tackled as early as possible and those on the west, before the sun warms them and destabilised the snow pack.
To explore all the off piste on offer takes more than a weekend. And when you have exhausted the resort there are some spectacular climbs just over the border in Andorra. It is not Chamonix Mont Blanc and all the better for it. Despite the limited 45km of groomed runs the backcountry skiing could keep you busy for a week, and have you coming back next year for more. Providing the snow conditions are right.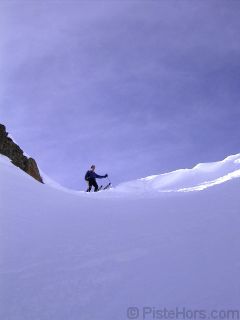 Contemplation
It is mid-February, 2004. Unlike the previous two years this does not look like it will be a vintage for the Pyrenean resorts. The start of Christmas week was a washout with high temperatures and rain. What snow that fell in January has been melting fast under a hot wind blown direct from Africa. The doom mongers are in full cry. Max the migrating stork who typically spends until late March in Morocco is already circling the skies above the Pyrénées, like a vulture, or is it an Albatross? Still this high in the Pyrénées there is at least snow, snow everywhere all of it to be skied.
<< History | Porté Puymorens | Couloir de la Mina >>