Ski Areas > Pyrénées
The Pyrénées mountain range is situated between Spain and France and stretches for 400 km between the Atlantic ocean and Mediterranean sea. There are over 200 summits exceeding 2,000 meters in altitude. The highest peak is found over the border in Spain, the 3404 meter Pico d'Aneto.
Ski stations open from early in December until mid-April and ski touring is best from February when the days are longer. From the Atlantic a traveller passes through the Ariège, the Haute-Garonne and the Hautes-Pyrénées and will find no less than 38 ski stations on the way offering over 1000 km of marked piste.
Further to the south than the Alps the climate is milder and influenced by the proximity of the sea. In winter there can be a surprising amount of snow above 1500 meters. Due to the climate and altitude there is very little glaciation so little risk from crevasses. Powder days can occur well into April, we've skied in 20cm of fresh powder through the pine forests of Pal while bathed in warm spring sunshine.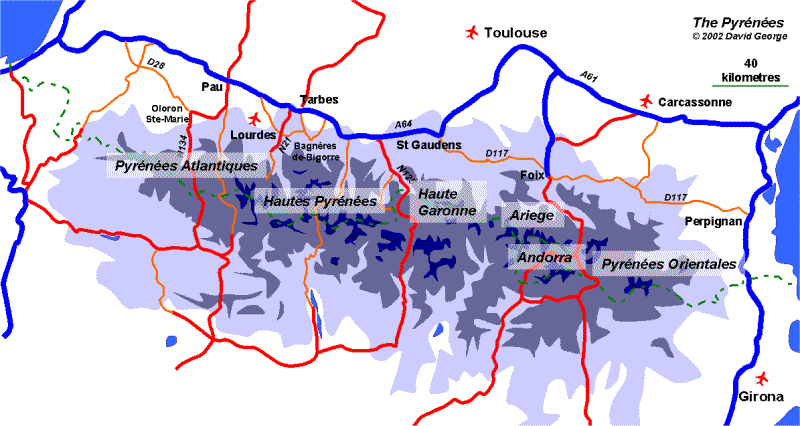 Departments
The Pyrénées includes the following departments:
Ski Areas
More Information
Neil Hardy, who runs the excellent shop Telemark-Pyrenees in Ax les Thermes has written the following description the mountains and ski possibilities.
Looking for somewhere new to ski? Imagine a mountain chain measuring 400 km by 70 km, with hundreds of peaks between 2800 m and 3404 m and snow from 1500 m. It sounds good doesn't it, and it is! The Pyrenees have magnificent scenery offering superb ski touring.
What's more, the climate, snow conditions and terrain all combine to help you to get a lot of skiing done. While we have used telemark gear for all the routes described, alpine touring kit is equally suitable.
Snow starts to accumulate in December and by the middle of the month most downhill resorts are open. While easy trips are possible right away the main touring season kicks off in January when the snow has usually stabilised. The best months are February to April while north facing slopes are often skiable - and good - until at least late June. Early summer visitors from Northern Europe are often surprised to find that axes and crampons are required well into the summer.
Stretching between the Atlantic and the Mediterranean, the Pyrenees receive precipitation from all directions. As a rule north westerly storms dump snow on the French side, while south easterlies are good news for Spanish skiers. The mountains are a very effective barrier to the weather: while a blizzard is raging on one side, just over the ridge it is often calm and sunny. Not that bad weather is a problem. A typical winter consists of stable anticyclonic weather interspersed with storms lasting two or three days and often dumping considerable amounts of snow above 1400 m. Those bleak days are few-and-far between, it is either sunny or snowing.
So what is the snow like? Good. Fresh snow is often surprisingly light and we ski powder more often than you would expect. The primary factor affecting snow strucure here is the sun. While snow on southerly slopes is transformed fairly quickly, on shaded north faces and in the woods powder can stay unchanged for many days.
Sastrugi and wind slab are less common than in Northern Europe, but surface crust may form during the early stages of snow transformation. This of course is ideal snow for perfecting those jump turns! Once stabilised the snow is excellent for touring and you can often choose your preferred snow type with a bit of judicious route planning.
The major risk factors causing avalanches in the Pyrénées are: fresh snow after a heavy storm; full depth slides early in the season due to insufficient cohesion with the still warm rock/soil; heavy wet slides in the late afternoon, especially on South or South-West facing slopes. Windslab can be a problem but is less common.
The Pyrenees contain only a few vestigial glaciers so crevasse rescue equipment is not required. You can ski light and far here. It is worth using wide skis since they cope better with a wide range of snow conditions, floating better in powder and on soft spring snow. Many free heel skiers use alpine touring skis, such as the Atomic Tourcap Light - this works really well as a tele ski.
Neil Hardy - Telemark-Pyrenees
Where to Ski
For details of summer walking and winter alpine and cross country skiing consult The Pyrenean Tourist Confederation web site.
These sites have more information. http://www.pyrenees-fr.com
<< Northern Alps | Ski Areas | Southern Alps >>