Ski-Areas > Pyrénées > Pyrénées Orientales (66) > Cerdagne > Porté Puymorens
Contents
Description
The tiny ski station Porté Puymorens, situated in the Cerdagne area of the Pyrénées Orientale, is often overlooked by skiers intent on hurrying to the gaudy tax haven of Andorra. True, situated on a branch road just below the 1920-meter road pass of the same name it is a something of a backwater. The village itself has few hotels so most of the people on the piste are day-trippers. With the proximity to the Andorran and Spanish boarders that accents are a mixture of Catalan and local French djeunz (youths) attracted by the vast snow park and half pipe. The baggy trousered teenagers imitate the patois of the big Paris housing projects but with a distinct Pyreneaing accent… more bumpkin than gangsta rap.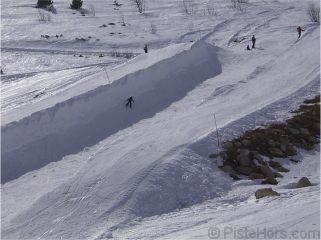 The lifts are neither the speediest nor the most reliable, largely old two man chairs and drags. In peak periods queues can build up but on this first day of the French winter holiday period we waited no more than 5 minutes. The lift served area extends from 1600 metres to 2500 metres. There are 40 km of lift served runs. There are 45 km of cross country trails. The resort features a large nowpark. The area is part of the Neiges Catalanes ski domain.
History
Add a history of the resort here
Travel
Nearest Airport(s): Carcasonne, Toulouse Blagnac
Road: RN116 from Perpignan by the Têt valley and then the D618 from Mont-Louis or the RN20 from Toulouse. In bad weather you should take the tunnel rather than the road pass.
Rail: Environmentally friendly and spectacular is the railway line from Paris, Toulouse to Porté Puymorens. The railway station is 600 meters from the pistes and there is a free bus transfer. Check with the tourist board how often this runs. Andorra bus runs a service between l'Hospitalet on the other side of the Porté-Puymorens tunnel to the principality of Andorra if you fancy a change of scenery.
Accomodation
You can include a short description of any accomodation along with a link.
Restaurants and Bars
Tell readers about any good restaurants and bars in the resort
Shopping
We don't all ski 24/7, if there are shops: ski, fashion or bookstores you think people should know about mention them here.
Guides and Instructors
Only include guides and instructors who cater for off-piste or backcountry. Please specify whether they take snowboarders.
Useful Information
website: http://www.porte-puymorens.net/
Respect copyright. Contributions must be your own work and not copied from other web pages or elsewhere.
Category: Ski Areas
<< Font-Romeu | Pyrénées Orientales | >>