Ski-Areas > Pyrénées > Pyrénées Orientales (66) > Cerdagne > Porté Puymorens > Off Piste > Couloir de la Mina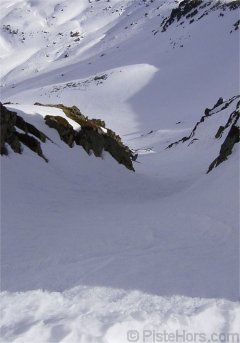 Couloir de la Mina
The Mountain of the Mine
The plan is to take the Dome de la Mine chairlift and then climb on touring skis and skins to the Pic de la Mina, the mountain of the mine. The mine buildings themselves are still visible lower down towards the Andorra road. Just over the next ridge is Gold City – Pas de la Casa in Andorra. The tax-free principality, an anachronism slap bang in the centre of the European Union. Pas is now linked with Grau-Roig and Soldeu on a single lift pass, the Grand Valira. They are now looking northwards for a link up with Porté-Puymorens. Three lifts would do it and would considerably extend the ski domain, challenging some of the ski circuses of the Savoie. The savage Baladrar valley would become ski runs, although the slopes from the French side are fearsomely steep. Fortunately such projects are still only in the planning stages.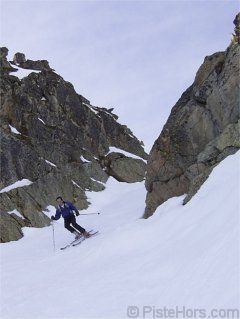 Exit Strategy
Turning left from the chair there is about 300 meters, or 20 to 30 minutes of climbing a north-facing slope. The snow is hard and rutted. A skier clatters by, turning with difficulty on the corrugated surface. The recent weather has done its worst. The slope leads upwards and ever steeper and narrower. The last 20 meters of climbing are maybe better tackled on foot. The summit offers a splendid view of the surrounding peaks and valleys. It is time for a coffee and a bite to eat.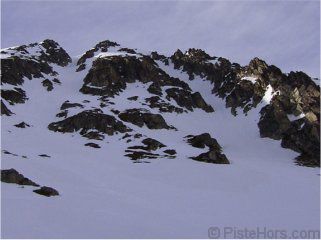 Pic de la Mina, East face
From the summit it is a short scramble down to the Col de la Mina. Here there are two choices, to west a wide but steep slope takes you down to the Baladrar valley and either a traverse back to the Mine chair or a pleasant ski to the Andorra road and the car park. To the east is the couloir. The first few meters from the summit flirt with 50 degrees. If you climb down a bit further the slope is a more acceptable 45, although a cornice frequently guards the entrance. Be careful of wind slabs here. The slope is narrower than it looks and challenging under the mixed snow conditions we found. Lower down Ian found some powder, not particularly fresh but nice all the same.
<< Porté Puymorens Off Piste | Porté Puymorens | Vallettes Couloirs >>