Articles > Heliskiing
Heliskiing and Heliboarding in Europe and Beyond
Originally posted to rec.skiing.resorts.europe on the 18th of April 2002. I'm not a great fan of heliskiing on environmental grounds but hope this information will prove useful and present a balanced and informative picture of the activity.
Introduction
Despite a strong anti-heliski lobby in Switzerland the Swiss maintain that heli-skiing is a way of subsidising the training of pilots. Only Swiss helicopters can operate in Switzerland.
A bit of history concerning the ban in France. The French president, Valerie Giscard skied Mont Blanc after being dropped by 'copter, a demonstration awaited him at the bottom. He appreciated the arguments and heli-skiing was banned on the French side of Mont Blanc. For the same reasons the first Mitterand government generalised this to the whole of France except for work or rescue. Heli-skiing and tourist flights are banned in France for the reason that they disturb the environment and cause a great deal of noise in relation to the number of people who can benefit from this activity. This is the French idea of the interet general - the common good if you like, takes precedence over individual freedom.
The actual piece of legislation is Article 76 of Law n°85 of the 9th January 1985 concerning the development and protection of the mountain (commonly called the "Mountain Law"). Which states that "dropping passengers for touristic reasons by aviation is illegal except on designated airports". These measures were confirmed by Article L 363-1 of the Environmental Code.
This seems to leave open a loophole whereby it is legal to use helicopter lifts, for example from Tignes Lac after skiing or boarding the Mickey's Ears off-piste and from Lanslebourg/Bonneval in the Maurienne valley after descending from Val d'Isère. Helicopter lifts are also in operation in Courchevel and l'Alpe d'Huez. You can also ski or board in Italy after being picked by by helicopter from Tignes or Chamonix and drops can be made in the border areas, for example close to La Rosiere to ski into the high Tarentaise valley. The Italians have followed the same ideas and have limited heli-skiing in Val Ferret although it continues in Val Grisenche.
For any trip your group will need a snow shovels, probes and avalanche transceivers. These will usually be provided by a guide or can be hired in resort. It is hard to plan exact routes beforehand as these will depend on snow conditions, weather and other groups and air traffic, see the story at the bottom for an idea of the pitfalls.
Italy and France
The majority of heli-skiing is in the Val d'Aoste: Val Grisenche (9 Valleys) - La Thuile and Monte Rosa (4633m). You can find the biggest vertical in Europe, extreme skiing, couloirs, glaciers but you need to go when the snow is good. Val Grisenche has a micro-climate, you shouldn't rely on the snow cover in neighbouring regions but should phone locally. You can ski or board many of the Italian summits from the French stations on the border. Consult the ski schools in Val d'Isère, Montgenèvre, la Plagne and Courchevel.
Best Period
January until the end of May!!!Cost
Between 80-150 € per rotation.
9 Vallées
Based in Tignes offers a package of six days spread over 10 days for around 1600 €. This gives you ten drops riding between 4,000 - 6,000 meters per day. They use a Ecureuil B2 helicopter which can take 5 passengers.
Summits
Based in Argentiere was founded by extreme skier Patrick Vallencant and is today represented by Stéphane Dan. Dan (Fanfan) doubled for Pierce "James Bond" Brosnan in the Chamonix ski sequences of TWINE. 280 € pays for two drops on Mont Dolent including a guide. Other destinations are possible.
Addresses
Ecole d'Alpinisme du Mont-Rose
Hotel Dufour,11020 Gressoney-la-Trinite
Tel +39 01 25 366 139
Ecole de Ski la Thuile
Tel: +39 0165 884123
http://www.guidemonterosa.com/
9 Vallées
Le Franchet
73320 Tignes
Tel: 00 33 (0)4 79 06 51 77
http://9vallees.ifrance.com/
Summits
110 Chemin de la Glacière
74400 Chamonix
Tel: 04 50 54 05 11
Fax: 04 50 54 00 81
http://www.summits.fr
Chamonix Adventure
Based in Chamonix they offer heliskiing over the border in Switzerland and Italy as well as off-piste skiing in the Chamonix area. They are run by mountain guide P Anulliero.
Tel: 00 33 (0)6 80 42 58 49
http://www.chamonix-aventure.com
19th April 2003: Heliskiing in Italy Threatened After Six Die in Crash
The safety of heliskiing is being called into question after six people were killed in a helicopter crash close to Sestrières (north-western of Italy). The helicopter left the ski station of Sestrières with a group of skiers and their guide. The helicopter, an AS-350 B2 Ecureuil crashed into the face of the Point Ciatagnera on Saturday morning. There was a single survivor, Ernesto Pilotti, a 70 year old Italian man who was taken to hospital in Turin and was said to be in a serious condition. Investigators hope to glean vital evidence from him. The skiers were all Italians in their sixties accompanied by their guide, Mario Perona, aged 38. The 31 year old pilot, Aldo Saglia, is well known and respected in the industry.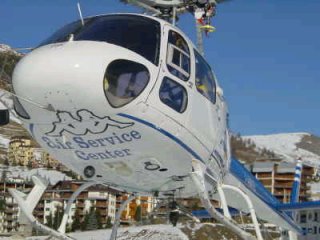 An Air Service Center Eurocopter AS-350 Ecureuil
The rescue operations were hampered by bad weather which also cost the life of a guide and first aid worker. Two directors of the company Air Service Centre have been placed under investigation by the Turin prosecutor who is also concerned with loopholes in Italian legislation surrounding heliskiing. The directors could face manslaughter or negligence charges. The Italian civil aviation authority has also opened an inquiry. Accident investigators suspect either a technical problem or wind gusts but prosecutors also suspect deficiencies in the organisation of the trip. A poorly configured Global Positioning System (GPS) which delayed the rescue operation, a lack of flight plan and no weather reports available to the pilot. In the Val Grisenche there are an average of 40 to 60 heliskiers per day between January and May. There has been an increase in interest in heliskiing brought about by better equipment such as fat skis that makes off piste skiing easier.
Switzerland
Best period
January until the end of May
Cost
80 - 125 Euros / per rotation. 4-6 place 'copter. Summits offers a drop on the Aiguilles Dorées for around 250 € including guide.
Addresses
Helicoptere Service
Sion Civil Airport
CH-1951
Sion
Tel: +41 273 236666
Air Zermat AG
Sion Airport: CH-1950 Sion
http://www.rhone.ch/airzermatt
Air Glaciers
Heliport Poostfach 22
CH-3822
Lauterbrunnen.
You can also transfer from Sion to resort with a helicopter if you don't like tour buses
Swiss Heliski Operators Fall Foul of Government
The Swiss Aviation authority (Bundesamt für Zivilluftfahrt - BAZL) is investigating allegations that Air Zermatt and Air Glaciers have been making illegal helicopter drops of skiers close to the Hotel du Trifft near Zermatt. The allegation centres around the fact that there is no designated landing spot by the 2300 meter mountain hotel. The drops had taken place over a ten year period, BAZL-Direktor Raymond Cron believes these can only have taken place with the knowledge of BAZL officials and has opened an investigation into his own department. Although Heliskiing is permitted in Switzerland it is highly regulated and drops can only be made at certain designated landing spots.
Spain
Best period
Jan - end of April
Cost
Spain is cheaper per rotation (38 €) but you must ride with a guide.
Addresses
Helipuerto Baqueira Beret
25598 salardu Leirida
Tel: + 34 (9) 73645797
Heliswiss
+34/973645797
Organises heliskiing trips to the Val d'Aran, Sierra Nevada and in Andalousia
Caucasus, Kamchatka and Siberia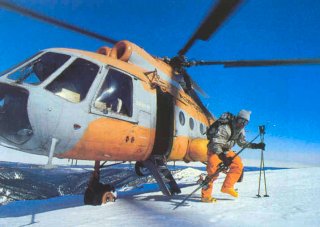 Aeroflot MI8 MTV in the Caucasus
Best Period
Start February until the end of June
Cost
Between 2000 € to 4000 € depending on destination for a trip of 6 - 10 days
Addresses
Yak and Yéti in Chamonix (tel: 04 50 53 53 67) offer heli-skiing in these areas using an MI8 MTV twine turbine helicopter. The cost is around 2000 € for the Caucasus although this depends on the type of accommodation. This price includes the helicopter, a UIAGM qualified guide, food and local transport. You will need to add about 600 € for the flight to Sotchi via Moscow (overnight stop in hotel). The trips last 6 days and take place between the end of January and the end of April. You should be able to cover between 12,500 to 25,000 meters of vertical with a refund of around 50 € for every 1,000 meters not skied. The un-glaciated terrain is perfect for heli-skiing
Situated at the extreme east of Russia the Kamchatka (or Kamtchatka) peninsula is surrounded by the Okhotsk sea and the Pacific Ocean. The peninsula is 1500 km long and 450 km wide and is snow covered from December to April. The country is home to bears, eagles and wolves and has a number of active volcanoes. At 4750 meters Klyucheskoi is the highest active volcano in Europe and Asia. Heliskiing tours are offered in May and June. Cost is around 4000 € with Yak and Yéti for 10 day inclusive or $1000 for 8 days with LostWorld excluding the helicopter which costs $700 per hour.
Siberia covers an area of 12 million km2 situated to the east of Russia. The Taiga forest contains half of the world's wood reserve and the Baikal sea one fifth of the planet's fresh water. Frozen for 8 months of the year it is the home of fresh water seals. If you fancy skiing in the region go with an organised tour, it is very difficult to arrange things once you get there. Sébastian of GSASport in Lyon, France has already arranged a number of trips to the region, tel +33 (0)4 78 29 94 54.
Kashmir
The first thing to remember is that Kashmir is a very troubled region, disputed by nuclear powers India and Pakistan, there has been relative peace in the last couple of years since talks began between the two sides and a slow return to tourism. In 1947, at the time British colonialists withdrew from India and Pakistan they gave princely states the choice to attach themselves to one or other of the regional powers or remain independent although they suggested that geographic and religious issues should be considered, 80% of Kashmir's population is Muslim, the same religion as Pakistan. The Marajha of Kashmir wanted independence but had to ask the troops from the Indian army to help out, eventually he was obliged to make Kashmir a province of India on the condition that he hold a referendum on the issue.
Pakistan has never renounced its claims to Kashmir and there have been a number of wars in between. Currently the smaller northern part of the province is occupied by Pakistan and the Pakistani secret service actively supports insurgents on the Indian side of the border leading to severe or complete border restrictions. Pakistan, which has often ruled by a military dictatorship has been supported by its ally the United States which disliked India's non-aligned stance during the cold-war. If you go to Indian Kashmir you will see a strong Indian army presence. The disputehinders the economic development of the region.
With the average temperature around 20 degrees lower than Dehli Kashmir was the favourite holiday spot for the Indian elite (incidentally my mother lived there during the second world war).
Best Period
From January to the end of April
Addresses
There is currently one company organizing heliskiing in the region, Himalaya Heliski run by the legendary Sylvain Saudan based in Srinagar. Saudan has worked closely with the local authorities to develop this activity. Skiing is possible between 4,500 and 3,000 meters altitude although the peaks rise to over 6,000 meters. K2 (8611 meters) and Nanda Devit (7811 meters) are also to befound nearby. The programme very much depends on the low level war rumbling on between India and Pakistan.
Himalaya Heliski BP 2076, 1211 Genève 1 (Suisse). Cost is around 6,000 € including your plane ticket for a week. They are based in a palace hotel in Srinagar and ski the mountains to the east.
Sylvain Saudan, Skier of the Impossible
In the 1960s skiers began to wonder if some of the classic climbing faces could be skied. Sylvain Saudan, qualified as both instructor and as a high mountain guide and one of the original extreme skiers pioneered many of these routes. Born in Lausanne, Switzerland in 1936 he has skied all over the world. nicknamed 'The Skier of the Impossible' he put up a first descent of the direct 45 degree line of the Couloir Sans Nom on the face of the Rothorn in the spring of 1967. A month later he skied the north face of the Corvatsch in St Moritz, around 1000 meters of vertical at over 45°. The lift company were not impressed and pulled his lift pass when he reached the bottom. He was 'a bad example to other skiers' according to the piste director. Finally on the 23rd of September 1967 Saudan gave himself a fantastic birthday present with the first descent of the Couloir Spencer in Chamonix.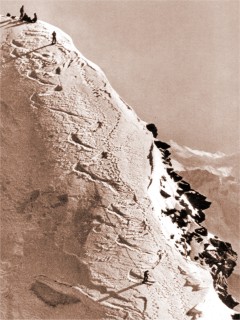 Saudan's first curves on the Bionnassay
This was just the start. The following year the Couloir Whymper on the Auguille Verte and the Couloir Gervasutti on the Mont-Blanc du Tacul fell. To ski at angles of more than 50 degrees Sylvain realised that normal parallel jump turns were not practical. In the period of 'free fall' the skier picks up too much speed to control his descent and at altitude they are too tiring. Instead Sylvain developed the 'windscreen wiper' turn where the skier turns on the ends of the skis. Armed with these skills Saudan skied the couloir Marienelli on the Monta Rosa and the North West face of the Aiguille de Bionnassay in 1969.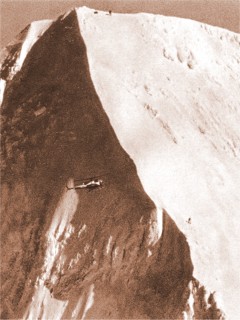 A tiny spec on the south-west face of the Eiger
In the early 1970s Saudan skied Mount Hood in North America, the south west face of the Eiger, the south face of the Grandes Jorasses and the couloir of the Tournette on the south west side of Mont-Blanc. In 1982 Saudan descended from the top of the 8068 meter Gasherbrum I in the Himalayas.
Dangers
There is a very large temperature gradient between day and night which leads to the rapid transformation of the snow although the remoteness and the possibility of being taken hostage and beheaded by terrorists add to the sense excitement. Oh and did I mention that Pakistan and India are at war and both are nuclear powers armed to the teeth?
Gulmarg
There is also a ski resort close to the Pakistani border. The resort, at a height of 2700 meters, was started by the British in 1927 when two British Army Officers, Maj. Metcarp and Maj. Hadow had setup the Ski Club of India at Gulmarg. A long awaited extension to the Pomagalski cable car has recently been opened. The original cable car ran to the Kongdoori Valley and stopped, from here there were no obvious pistes and skiers had to pole across a plateau, often in humid snow. The 2.65km extension stretches to an altitude of 4390m the project has cost some $3 million. Skiing is said to cost a quarter of the cost of the European alps. e foreigners.
The ski area itself is at Apharwat where there are three drags and a chair. From the top station there are no obvious pistes and you have to cross a plateau in often humid snow conditions. Maybe not the best introduction to the region but an experience never the less. The season is usually from before Christmas through to April. The resort hosted the first Indian winter games in 1998. A state owned ski shop hires ski gear including gloves and goggles.
Himachal Pradesh
Another region offering heliskiing in India is Himachal Pradesh. Himachal Helisking operates from Manali (tel: 64 3 443 7930).
Himachal Heli Skiing (HHS), Himachal Pradesh, India Cost is 5,750 € per person for seven days excluding plane ticket. Skiing is in groups of three with a guide and offers the possibility of skiing 30,000 vertical meters. (to put that in context a good day of resort skiing in the Alps can cover 10,000 vertical meters)
Contact: sales@himachal.com
30th April 2003: Four Die in Himachal Helicopter Crash
Three passengers and the pilot of a helicopter belonging to Himachal Helicopter Skiing were killed when the aircraft crashed into a canal shortly after takeoff from Pirni at around 8am. The canal runs parallel to the Pirni-Manali highway. The Lama SA315B helicopter broke into pieces on impact. Himachal Helicopter Skiing is operated by Australian, Roddy Mackenzie.
Kyrgyzstan
The CIA worldfact book describes Kyrgyzstan as a Central Asian country of incredible natural beauty and proud nomadic traditions. Yes we did have to check where this place was. It is situated to the west of China in central Asia on the Silk Road. Kyrgyzstan was annexed by Russia in 1864; finally regaining independence from the Soviet Union in 1991. The highest peak is Jengish Chokusu (Pik Pobedy) at 7,439 m so there is plenty of scope for skiing. The Tien Shen mountain range is described as having a dry to polar climate.
Asia Tours Director Igor Akkerberg tells us he can arrange heliskiing trips to this region. Telephone: (+996-312)-644064,463273 Postal address: Room 410, 107 Kievskaya str., Bishkek, 720001 Kyrgyz Republic E-mail: asia_tours@hotmail.com asiatours@yandex.ru Website:http://asiatours.greenline.ru
The British Government advises against travel to the Ferghana Valley and to the the south and west of Osh and say that landmines are a danger in the Batken region and along the Kyrgyz-Uzbek border. Apart from that most trips are trouble free.
Worldwide
DestinationPoudreuse based in France can arrange heli-skiing trips to Alaska, The Himalayas, New Zealand, Canada, Chile and Utah.
A day out heliskiing in Switzerland
(from fr.rec.montagne 4/4/2002)
Hi,
I sent a message to this forum concerning heliski and got lots of messages, most very negative. Well I was tempted to try it out and last weekend tested a trip in Zermatt. Before you all get on my case I prefer ski touring or snow shoes.
We set out to do two rotations, one to Aschihorn the other to Mont Rose. We were flying from Zermatt in the morning. Ok the first off the Aschihorn was closed so we would only do one rotation. We left, but were out of luck, too much wind on Mont Rose, instead it was suggested that we try another summit, the 'Alpoubelle' [is this a real mountain - dg?] or some such, around 4200 meters. We were really fed-up, to put this into perspective we got up at 3am to drive to Zermatt. We'd done 4 hours of driving, paid for parking, taken the Noddy train to Zermatt we weren't about to do a U turn... so we took-off anyway.
The 'copter was fantastic with a superb view but well it took around 5 minutes to fly. The panorama from the summit was amazing. The rest was crap. Horrible snow, descent style icy blue piste, loads of rocks and too short, it took about 1 hour. Return to Zermatt on taxi (another 8 Swiss Francs etc etc.) Like sex with a call-girl, 290 Swiss Francs for minimal and all too short pleasure.
So that said, the heli-ski might be great for a London banker with more money than sense so he can tell his mates back in Canary Wharf but for me, a simple ski tourist it was just a way to understand the sometimes strange world of yuppie skiers... nothing more.
(my translation - phrases altered or clarified to make more sense to an English speaking audience. Lots of follow-ups were critical that the author thought that heli-ski clients are yuppies with no sense.)
Sections Copyright © David George, 2002-2006
<< A skis sur la Haute Route Corse | Articles | Servicing Skis and Snowboards >>