Bio > Patrick Vallençant
"Seduced by the snow, I climbed up to its source to discover its kingdom". – P. Vallençant .
Patrick Vallençant [Lyon 9 June 1946 - 1989] had an unhappy childhood. An authoritarian father who placed strict limits on Patrick's life, often without good reason. A city boy he was born in Lyon immediately after the war and like many of his contemporaries began skiing on the hills surrounding the city in the prodigiously snowy winters of the 50s.
When he was 15 his father built a chalet at the ski station of le Planolet in the Chartreuse range east of Lyon. There he met Guy, a local ski champion. On the off-piste of the Terres-Brules Guy opened the doors to what would become a major part of Patrick's life. A land of beauty and solitude but not without danger. Guy warned of crevasses. In their minds they imagined they were descending high-mountain glaciers but these crevasses were pot-holes eroded into the limestone. Vallençant remembered the euphoria of the descents in deep powder snow, a profound feeling of being free of all constraint in harmony with the world. Feelings that, Proust-like, would "mark him like stigmata" and that he would spend a lifetime trying to rediscover.

Vallençant and Anselm Baud Arête de Peuterey
At 18 he left school to join the High Mountain Military Academie at Chamonix (EHM) but was kicked out after two years, with six months spent in prison. However he had become a good skier. He found work with his girlfriend and lifelong companion, Marie-Josée as ski instructors in Switzerland, at Les Menuires and at Val d'Isère. Still in awe of the myth of the guide in 1970 he enrolled at the ENSA in Chamonix despite being told that it was a career almost inaccessible to a townie like himself. He had never climbed on rock. He passed his guide exams in 1973 but rock climbing remained a weakness and he eventually gave up taken clients in the summer keeping this time to himself.
It was during this period that he put up a fantastic series of first descents including a traverse from Nice to Innsbruck in the spring of 1972 with Marie-Jo. This was originally a commercial trip with another guide but they couldn't find clients for such an adventure. Marie-Jo completed the route on old wooden skis from another epoch. Her touring skis had not been delivered in time.
La Grande Casse
His first descent of note was the north face of the Grande Casse and the couloir des Italians, skied on the 10th of May 1971. Vallençant did not have the same meticulous preparation of the Swiss Sylvain Saudan and his early descents were a matter of trial and error. Even as a trainee guide and qualified ski instructor he realised that he knew little of the high mountains and even less about skiing extreme slopes. He camped at the foot of the col de la Grande Casse at a spot, he was later to realize, in the direct path of avalanches. He was equipped with heavy boots and was using some bindings offered by a sponsor that were not adapted to extreme skiing. These were mounted to metal skis.
The north face is a line of some 800 meters broken by two bands of seracs. If a skier falls and cannot recover he will inevitably tumble over the seracs with fatal consequences. Vallençant climbed the col with a friend, Alex, who was there to take some photographs. Promising to do some nice turns for the camera one of his skis broke through the crust and stopped dead. The binding released, after 40 meters he managed to stop his slide and continue. Further down the slope he was blocked by a band of ice. With the idea of skiing the couloir in its entirety he spent 2 hours cutting a track through the ice with his axe without ever leaving his skis. What followed was a snow slide, 2 meters wide and 5cm thick. On every turn his skis touched the ice below but steadily he descended the slope. As it widened he began to ski more freely and tension left his body. He knew that this form of skiing would play an important role in his life. That evening at the bar in Pralognan la Vanoise he told anyone who would listen about his exploit, "the sin of youth" he would later comment.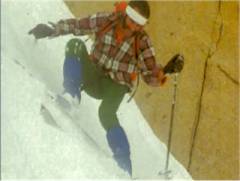 Vallençant on the Arête de Peuterey
10 May 1971 : North Face of the Grande Casse.
20 June 1971: North Face of the Tour Ronde
24 June 1972: North face of the Courtes with Marie-Jo
7 July 1972: Couloir en Y on the Aiguille d'Argentière with Marie-Jo
8 July 1973 : Couloir Whymper on the Aiguille Verte with Anselme Baud.
5 August 1973 : Couloir Couturier on the Aiguille Verte with Anselme Baud.
During June 1975 the following couloirs in the Oisans massifs: North Couloir of the Coup de Sabre, NW Couloir of the Pic Sans Nom, North Couloir of the Col du Diable, the Barre Noire in the Ecrins and the Gravelotte of the Meije!
During 1978 : South-West and North Faces of Huascaran (6750 m) in Peru and the South-East face of the Artesonraju in Pérou
Vallençant and Anselme Baud had long planned a descent of the Couturier only to have the descent snatched from under their noses when Serge Cachat-Rosset took advantage of a break in the weather to make a helicopter drop on the summit of the Aiguille Verte. Cachat-Rosset took 5 hours to make the descent. Anselme Baud was furious, he thought that helicopter drops were not within the spirit of the game and promised a climb and descend by human power alone in less time than Cachat-Rosset and by a "more rigourous, direct and esthetique line".
Three days later Baud and Vallençant climbed and skied the Couturier in just 4 hours but their descent was controversial as many didn't believe their speed and by their own admission they didn't climb to the summit of the Aiguille Verte. The Couturier put Vallençant on the map, he was now able to earn a reasonable living from talks and this enabled him to fund a more mediatic expedition.
In 1975 it was the Chamioniard's turn to steal some first from the locals when Vallençant made a month long pilgrimage to the Oisans massif near Briançon. He took a film crew and three support guides including Jean-Marc Boivin who would get his first taste of le ski extreme.
South-West Face of Huascaran South, Peru
.... I though that Jean-Marc was ahead, it was 11 am, I gave the mule a prod and upped the pace. The road which seemed so long to us three weeks previously now seemed short, in the early afternoon we reached base camp at 4800 meters. From our tent we observed a group of three climbers walking down the moraine. They looked done in. They had been trying to climb Huascaran for the last five days. We were surprised; the group were part of a team including two Canadian skiers, which confirmed the rumours of the Indians. We asked them if their friends had already skied from the summit.
We chatted freely, one of the charms of climbing in distance countries is that it brings people of different nations close together and encourages dialogue. The group were extremely tired, they gulped down the tea we offered them. They had come to Peru, to this area shaken by earthquakes, to study the geology. They made marks and measurements and filmed everything. The two Canadians had piggy-backed onto the trip to make a ski film. The geologists were obviously not happy to accept the suffering that altitude brings and preferred to leave the skiers and their porters at the foot of the mountain.
The game wasn't up for us yet. We could maybe reach them in a day of hard climbing and who knows? Do the summit together? I spotted another face at the camp, Frédéric Labaye. What a coincidence, he told us "they area a bit overwhelmed by the task, if you try you can catch them, they are carrying a huge amount of gear". One can regret the element of competition amongst the high peaks but today I had to admit it was something that enchanted me.
The next day, at 10am, we crossed one of the Canadians, he had given up and was skiing down. He didn't seem to welcome our presence or maybe he was just tired? He skied really well. Our prey could not be far, at midday we spotted him and at 2pm we caught up with Peter Chrzanowski. He was suffering. His porters were loaded down with gear. We suggested resting the night where we were and continuing together the next day. The porters were happy to descend.
We had to take a look at Peter's gear. He had a diver's knife that weighed over a kilo; it said everything about his lack of experience. He was also carrying two cameras. One he could attach to his helmet, the other, incredulously, had a mount for ski shoes. We understood why we had caught him so quickly. On the plus side, an amazing amount of high altitude food and an isolated tent. In exchange for his gite and food we agreed to carry a camera to the summit and to help Peter on the climb.
We had just finished supper when a couple of silhouettes appeared. Was it Peter's friend? Impossible. We then noticed they had skis fixed to their sacks. Peter thought they were a couple of Californians because he'd heard that an American team were also in the frame. Peter then pulled a whistle from his pocket and began to blow furiously. Nothing he could do would surprise us now.
"You are a real bastard" was how Jean-Marc Boivin greeted me. "What me a bastard? I thought you were in front so I had no reason to wait for you". It was Michel, normally taciturn, who calmed things down "We are not going to fight with our ice-axes, you two make up and we'll go to the summit together". Jean-Marc and I talked about the past, our lost friendship, I wasn't completely convinced by his explanations, there still seemed to be a grudge, it was better to remember the good times we had and look to the future.
We relaxed. "You must have climbed very quickly" I told them. I couldn't understand how they had caught up with us when we had walked so fast to catch Peter. In fact they had been hard on our heels since the first day.
The absurdity of the situation struck me. Here we were, on a summit that had never been skied and on the same day everyone was chasing after each other. Peter wanted to be first. We thought we were chasing our friends who were in fact chasing us. It should have been on television.
We ate a chilling breakfast. Dawn arrived quickly. A few clouds floated in the sky, they would grow thicker during the day. Crevasses, which hadn't caused us many problems, were now open. To cross the biggest we had to traverse a fine blade of ice. Technically not hard but it needed good cramponing techniques. Still we refused to rope up.
From the go Peter had trouble following us. We followed him from the corner of our eyes. We had to be at the summit today and there was no question of slowing down. The ice ridge would decide it. We were already 50 meters higher up when the Canadian reached the obstacle. Dominique was very worried to see him tackle the ridge akimbo using his knees and not his crampons. We had to admit to ourselves that he would not make the summit now that we had decided to tackle the direct ice triangle of the west face. Peter gave us an anxious look, like a call. I felt a bit responsible for him and because we were not really savages, I climbed down to help with my rope. Michel and Jean-Marc continued climbing. I grumbled a bit, the snow was hard. Then, close to Peter I offered my hand, the gesture was superb. It merited a photo in Paris-Match. I then had to convince him to descend.
"You won't make it, it's okay. I will film our descent and give you the images". I was also worried about the pair climbing on and catching up and wanted Peter to make a quick decision. The promise to film clinched it. So, without Peter I took the rope and caught up with my "friends". They were not too far ahead and in 30 minutes I was on their tail. First of all I recovered and stayed behind. Then feeling better I caught up with Michel. He was an incredible climber. One day touring in Austria he left me in his tracks and I never caught up with him.
We were at 6400 meters. We had already climbed 500 and there were 400 left to do. Everything had gone well. The steep slope, the breakable snow, outlawed any competitiveness. Now Michel and I were in front, Jean-Marc was losing ground, Dominique stayed in contention. We didn't utter a word. Three hundred meters more, clouds covered the summit. The wind grew violent, the snow harder. With tiredness thoughts turned to immediate preoccupations. Plant one foot once, chest forward, relax the shoulders. I counted my steps.
A race started with Michel. We took turns ahead. In these conditions it was difficult to pull ahead but the snow grew harder needing less effort. Michel began to fall back. He stopped, head forward, hand on one knee. I had felt him falter earlier. The shallower slope to the summit was just ahead. It was time to put on the pressure.
One, two... fifteen paces. Michel had caught me. I had to keep it together, taking short, fast breaths. I threw a look at my rival, he stopped. I let my heart recover. Two hundred meters to the top. Now I could break away. Dominique and Michel vanished into the cloud. I didn't stop to the summit obscured by intermittent clouds.
At the summit I was dead beat with my effort. I could only sit down. The wind chased the clouds and transported hard particles of snow. I was sitting and it seemed to be the most fantastic thing in the world. I gobbled my last food. In these moments of extreme tiredness the summit was a world of immediate needs. Eat, recover, breath, drink.
It was already 3pm, I began to grow cold. Two shadows emerged. Michel then Dominique dropped their sacks. We waited a long time then, chilled to the bone and the hour advancing we climbed down to help Jean-Marc still 50 meters lower down. Opinionated, he didn't want to know and continued on to the top.
We didn't want to ski the normal route. Too easy and there was no question of tackling the west triangle, completely covered in ice. That left the south-west face. That vast steep slope which we had observed while climbing ended in an important crevasse zone which we hoped to ski around.
Jean-Marc had joined us and we plunged onto the face inclined at 45 degrees. We were directly above the Huaraz valley the sensation of altitude was just one of the pleasures. It was already 5pm. As I had promised to film our descent I took some shots. They would be nice as large columns of clouds climbed and reddened in the setting sun. The task ruined a good part of my descent; to gain time I kept the camera in my hand which stopped me from planting my poles; in the icy snow it was not very pleasant. We rapidly lost height and were once again struck by what had taken so long to climb took so little time to descend.
At the bottom of the big face I put the camera away and focus on skiing. The wind blown snow formed corrugations that were nasty. They controlled our turns. Our legs were tired. We were keen to reach the bottom.
At the crevasse zone we split up to find the best route until we came to a dead end in a maze. Michel took a small valley and broke through a snow bridge. He only just had time to throw himself to the side. We climbed, descended and climbed. We started to grow worried. We found ourselves blocked by a huge crevasse. There was a snow bridge but it looked dodgy. If we couldn't cross we were not sure that we had the energy to climb. A bivouac was the only choice. Despite the hunger, thirst we were pleased to rest our bodies. Skis served to insulate us from the snow. The sky was clear; it would be a long, cold night. We missed our sleeping bags back at camp. I couldn't sleep and spent time massaging my feet to avoid frost bite.
In the morning we had to get going. Without food, without water, running on empty we wouldn't last a second bivouac. Finally Jean-Marc found a way through. We climbed a ridge. Michel fell into a crevasse that was blocked with snow and following the bottom we emerged by an ice fall at the edge of the gentle glacier slopes we had followed two days previously. There was no question of perfect skiing. We only thought of getting down, eating and changing our shoes.
"I definitely left my boots here, have you found yours?" I realised that an Indian was probably walking around in my boots, he would be comfortable, I take a size 46! I would have to walk barefoot to Mouchoc. Stones, cactus spikes, nothing missed my feet.
23 June 1979. Face South-West of Huascaran South (6750 meters).
Beyond 55 degrees.
Patrick Vallençant founded the Stages Vallençant in Chamonix to teach extreme skiing. The company is now run by Stephane Dan. He also created the clothing line Degré 7. In 1989 Patrick Vallençant died climbing, he was followed shortly afterards by his wife and soul-mate Marie-Jo killed during a freak bungy jumping accident. They have a son, Yann who is a qualified high-mountain guide and works as a journalist and film maker based in Lyon.
References
Patrick Vallençant and Michel Ballerini, Ski Extrême, ma plénitude, Flammarion - 1979.
Le Monde 1 April 1989 : "Aux limites de l'extrême".
Ski Peru, a film by Peter Chrzanowski
Ski Extreme. Patrick Vallencant. Flammarion. 197 (out of print).
<< Emile Allais | Bio | Laurent Boix Vives >>