This page is just a stub. You can help by expanding it.
Ski-Areas > Northern Alps > Savoie (73) > Tarentaise > La Rosière
Contents
Description
The ski resort of La Rosière is situated in the Tarentaise area of the Savoie department in the Northern Alps region.
La Rosière is situated on a sunny south facing balcony above the town of Bourg-Saint-Maurice in the upper Tarentaise valley with Mont Blanc as a backdrop. The lift served area extends from 1850 metres to 2575 metres. There are 150 km of lift served runs and the resort features a snowpark. The southerly aspect of the slopes does not seem ideal for snow cover and skiing but the area is influenced by two weather systems being located at 1800 meter altitude on the high frontier between the Savoie and the Val d'Aoste in Italy . When there is a snow drought in nearby Arcs or Tignes, Italian storms blow snow across the frontier into la Rosière and when the Italian resorts are suffering thenorth-westerly Atlantic airstreams crossing France also bring their fair share of snow to the area. La Rosiere also sells itself on Helisking. Banned in France it is still permitted with certain restrictions in the Val d'Aoste. Weather permitting good skiers can be dropped on the Italian side of le Ruitor or mont Miravidi.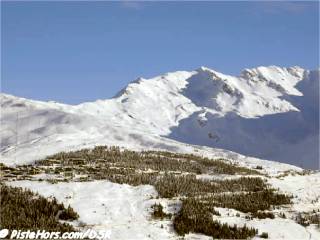 The link with la Thuile is also a plus for skiers on both sides of the frontier. Sometimes the warm southerly foehn (Chinook) wind can blow for days, melting the snow in la Rosière whilst in la Thuile conditions are fantastic. Other days la Thuile wallows in cloud and whiteout while la Rosière has fantastic skiing conditions under azure skies. The dividing line is at the top of the Bellecombe II drag lift and the difference at the col du Belvédère can be striking. This pass is at 2,641 meters altitude and is often windy. Skiing over it can plunge the skier from pleasant sunshine into deep freeze.
The resort, built in the commune of Montvalezan, is right on the tree line. Chalets are an attractive mix of local stone and wood. The few larger apartment blocks are reasonably well hidden by the trees. Below the Epicèas give a Canadian feel to the woodland. Known as a family resort the area is home to renowned skiers Joël Chenal, Olympic silver medalist at slalom in Turin and World class big mountain skiers Manu Gaidet, Romain Maître and Nathanaël Fresnois. With skiers of that calibre there should be some excellent freeride skiing.
At first glance the ski slopes seem to be pretty flat with lots of traverses. Snowboarders who spend a week on the marked ski runs complain bitterly about the ski area. But the mountains plunge into hidden valleys and there is lots of between the pistes potential. Don't be fooled by the family reputation, there have been some serious avalanches in the area and an Avalanche beacon, snow shovel and probe are de rigeur before heading off the marked and secured runs, as well as a knowledge of local snow and weather conditions.
The linked domain of la Thuile and la Rosière is called the Espace San Bernardo. A name that reminds one of the celebrated rescue dogs kept by monks at the nearby Petit Saint Berndard pass. The col du Petit Saint-Bernard reaches 2,188 meters and is closed in winter months as many a GPS user has found to their cost. The only way to travel between Italy and France is on skis. The road and the surrounding mountain passes has been used by pilgrims, invading armies and smugglers since antiquity – with a healthy traffic in salt to Italy and rice to France. Nowadays there is no customs post and the only indication that you are crossing over to Italy is the ring of the welcome message of the local operator on your mobile phone.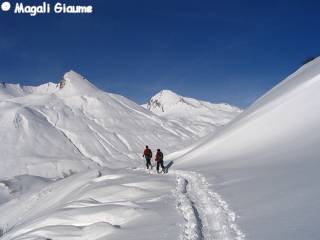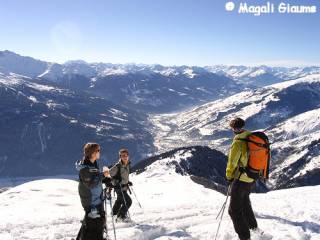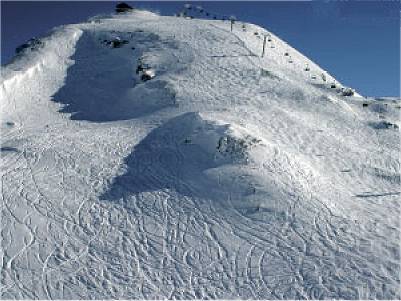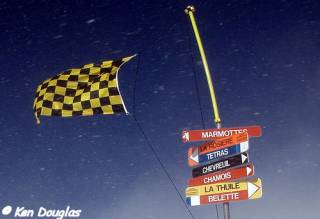 Photo Ken Douglas
History
Resort founded in 1961 by Robert Arpin. Robert Arpin worked as a ski instructor during the 1950s at Val d'Isère. There he learned how a ski station operated. He returned to Montvalezan with the money he had saved and built a drag lift, la Poletta, which still exists, with the aid of the Mayor Marius Gaidet. Another name of Tarentaise skiing. Laurent Boix-Vives of Rossignol fame also considered developing the lift system. The area has been linked with la Thuile in the Val d'Aoste the domain since 1985 and the combined area is called l'espace San Bernardo.
Off Piste Routes
Lots of off-piste if you are prepared to walk or climb a little. Family reputation means this doesn't get skied out as fast as at Val d'Isere.
Combe des Moulins
A vast south-east facing back bowl under the slopes of Mont Valaisan (2891m). Ski down to the Petit Bois chair. The top of the slopes is at 2383 meters col de la traversette you can ski down to the Petit Bois chair at 1515 meters and the hamlet of le Vaz. Here there is a cellar dating from 1660. Covered by snow it is an igloo made of stone. Inside there is a spring, this keeps the temperature a constant 10 °C to preserve wine, cheese and potatoes, almost a recipe for Tartiflette. You can ski down further to les Moulins and le Mousselard. Here you can take a helicopter back to the resort's altiport. Allowed despite strong anit-heliskiing law in France because it lands on private property 150 meters away from houses.
The Combe des Moulins is ideal of intermediates seeking an introduction to off-piste skiing. The only advice, keep an eye on the slopes above you and leave early.
Mont Valezan
This 2891 meter summit can be climbed from the col de la Traversette with touring skis or snowshoes if you are a snowboarder. It takes between 2 to 3 hours, traversing under north-west facing cliffs before turning to the south-east up the summit slope. You will need ski crampons if the snow is frozen. From the summit the Combe des Moulins is on an altogether grander scale. In a series of three bowls vast powder fields offer themselves to be skied during the winter months. These transform into perfect spring snow later in the season.
You can also return the way you climbed, direction col du Petit Saint-Bernard and the Bellecombe valley or plunge to the north-east, on the Italian side of the frontier, towards the epic 1500 descent and the hamlet of la Joux then la Thuile. Initially on the remains of a glacier you need to be sure of the snow cover lower down and also of the traverse to regain the red run to la Thuile and the lift system.
Bella Valletta
The climb from the col du Belvédère along the ridge to the Bella Valletta can be done in a little under an hour on foot, skis or snowboard safely stowed on your ruck-sack. Soft snowboard boots are not recommended. From the summit ridge you have a number of options. The first choice, towards the east, rejoins the lifts at Arnouvaz over a rolling, low (but not zero) risk terrain. Climbing higher brings you onto the slopes below Mont Valezan.
Le Roc Noire – Arete des Ziteux
Travel
Nearest Airport(s): Geneva Cointrin 215km (2h30 by car), Lyon Saint Exupéry 230km (2h50) Chambéry 135km (1h50), Grenoble St Geoirs airport 200km (2h30) Road: A430 Albertville -> N90 Moutiers -> Bourg St Maurience (Tarantaise valley) -> D1090 -> La Rosière
Rail: TGV from Brussels, London and Paris to Bourg St Maurice then Bus or Taxi to resort.
Accomadation
Tim and Beckie run 'A Mountain Chalet'. They offer weekly holidays in the winter, and are a Gite de France registered chambre d'hotel offering bed and breakfast in the summer. www.amountainchalet.co.uk
Restaurants and Bars
Bar Fusion, Eat Fusion, Arpin's (karaok), Le P'tit Relais, Le Pub, Le Terasse du Yeti
Shopping
We don't all ski 24/7, if there are shops: ski, fashion or bookstores you think people should know about mention them here.
Guides and Instructors
Compagnie des Guides de la Vanoise:
Local Guides
Jean-Noel Gaidet : 06 14 62 90 24* Jean-Paul Gaidet : 06 14 20 94 58
Eric Charamel : 04 79 07 06 22
Richard Galuez : 04 79 06 81 23
Evolution 2
Jacky et Xavier Arpin offers off-piste ski guiding and snow shoe tours
ESF
The Ecole du Ski Francais (ESF) has a good reputation for kids with English instructors.
Useful Information
email: info@larosiere.net
References
La-Rosiere-les-Arcs-Sainte-Foy - Vamos by Eric Charamel
100 ans la-haut – Montvalezan-la Rosiere Gisèle and Roger Gaidet
Montagnes Magazine, November 2005
Respect copyright. Contributions must be your own work and not copied from other web pages or elsewhere.
Category: Ski Areas