Ski Areas > Northern Alps > Belledonne > Pays d'Allevard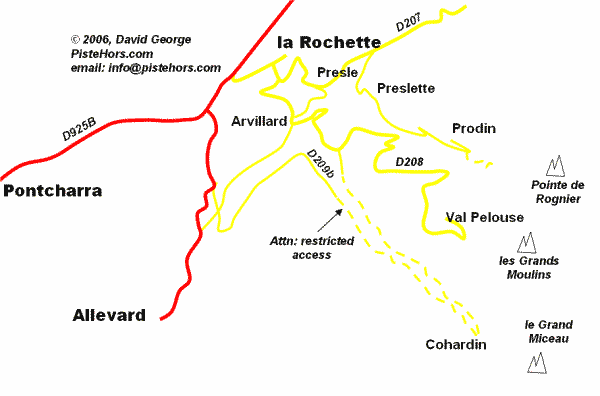 Prodin - Trois Sources
GPS: N 45.4287° E 06.1863°, Altitude:1220 m
From the A41 motorway take the Poncharra exit and follow the D925b to la Rochette. After a lake on the right there is a roundabout, take the first exit (D202) to la Rochette. At the entrance to the town take a right turn by a large paper works (D207) and follow the road to the Vallée des Huiles. About 1km after the small village Presle take a right turn that doubles back on the road towards Preslette and continue to le Mollard Ciseaux. In the winter the road is blocked at this point. Later in the season it is possible to continue to Florence (882 meters) then the summer parking of les Trois Sources (1220 meters) towards the end of April.
The area is fairly remote, about 1 hours drive from Grenoble. In mid-April there is usually continuous snow from the waterfall crossing at 1320 meters. In May the snowline is around the level of the exit from the forest at 1600 meters.
Val Pelouse
The ski station of Val Pelouse (Savoie) was situated at 1700m after a long 12km climb from the village of Arvillard. Created by the communes of la Rochette and Arvillard during the white gold rush of the 1970s. The resort had little infrastructure, a few drag lifts and a chalet. The area was never profitable. The access road was too long and the slopes too steep for family skiing although off-piste skiers liked the area. La Rochette decided to stop subsiding the area and it closed in 1985.
Today the wide access road is in a poor state although there is some obvious maintenance work. One wonders why? The area is used by summer walkers and especially paragliders. The chalet and lifts are gone although the restaurant at Aiton next to the roundabout was apparently once located at the resort. A kind of magic, a photograph inside shows the building in front of the the ski slopes.
Cohardin
Note that road access is restricted past the Forest Service House at St Hugon. However it seems that some access during April/May is tolerated but be careful to park on the Savoie side of the Bens river as there are tails of walkers getting fined (135 euros!!!).
Veyton
Refuges
<< | Belledonne | Gleyzin >>