Ski Areas > Northern Alps > Belledonne > Pays d'Allevard > Les Trois Dames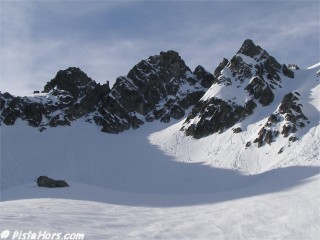 The Three Ladies
From the summer parking cross a bridge over a river and after 100 meters double back to the left on a forest track. After about 250 meters this turns into a path that zig-zags before re-crossing the river at 1320 meters. It is normally possible to ski to this point until mid-April. The path zig-zags up the left bank of the stream before reaching a small plateau and the ruins of the chalets du Gargoton (invisible if there is a lot of snow).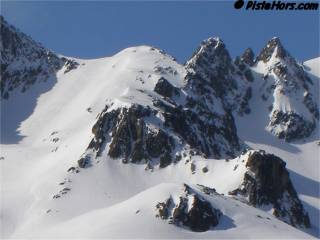 Final slope to the Trois Dames
The path continues zig-zagging up a west facing slope before traversing to the left at around 1600 meters towards the sources du Gargoton (there are the foundations of another ruined chalet at 1630 meters). Continue towards a point called le Grand Goulet before taking a large south-west facing slope to your left below the Pointe de Rognier. This joins the summer path which leads through a wide valley to the Lac Vert. The slopes of the Rognier and Gargonton are prone to avalanches which cross this path. Continue past the lac Vert to the top of the valley and the first of the Trois Dames which can be climbed on foot with a rope and some protection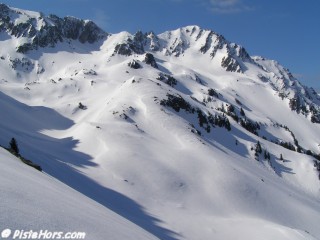 Lac Vert Valley
Comments
There are no particular difficulties on this route. It is possible to reach the Grands Moulins if you fork right just before the Lac Vert by a distinct rock and this option is less steep than by the Combe de l'Arbe Neuf except for a 25 meter section just below the rock.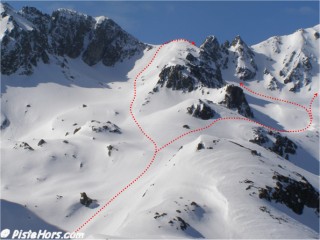 There is a steep south-east facing couloir between the Fort mountain and col to the left of the Trois Dames which descends towards the lac de la Freche. A possible route to the east couloir of the Grands Moulins although it is quite steep at the start.
- 19 April 2006
GPS: N 45.4079° E 06.2050°, 2475 meters
Orientation: NE
Toponeige Rating: Danger: 1, Climb: PD+, Ski: 2.3
30° over 200 meters - source IGN 1:25000 map
Climbing: 1155 meters (from summer parking)
Couloir Central de Trois Dames - Variant
The steeper and enclosed central couloir can be reached from the foot of the Grands Moulins NNE face.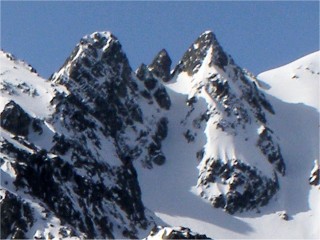 Couloir de Trois Dames
Orientation: NW
Toponeige Rating: Danger: 1, Climb: AD-, Ski: 3.3
38° over 100 meters - source IGN 1:25000 map
<< Passage du Fort? | Pays d'Allevard | Grands Moulins couloir NNE diretissima >>