Ski Areas > Northern Alps > Belledonne > Pays d'Allevard > Grands Moulins South Face
Description
Follow the same intial route to reach the refuge de la Perrière as descibed in Grands Moulins couloir SW. Continue traversing to the south-east on the summer path, you cross a second shoulder which opens into a bowl below the col de la Freche (2183m). Climb up the slopes to the north-east, these are quite steep as you approach the summit, around 40°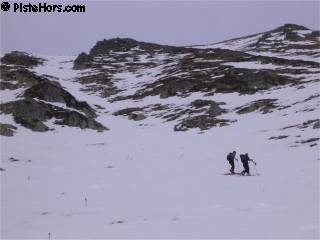 Climbing the south face
| | |
| --- | --- |
| Mountain Range | Belledonne |
| Summit | Grands Moulins |
| Altitude | 2495m |
| Orientation | South-South-West |
| Starting Altitude | 1100m |
| Vertical | 1395m |
| Maps | IGN TOP 25 3433 OT Allevard |
| GPS Waypoint | |
| GPS Route | Attach:Grands-Moulins.kmz |
| Grade[1] | Danger: 1, Climb: PD+, Ski: 3.3 |
| Comments | The slope averages 39° degrees over the first 200 meters |
| Snowboarders | Yes but a flat traverse from the refuge de to Val Pelouse |
| Equipment | ski crampons |
| Road Access | Pontcharra -> la Rochette -> Arvillard -> Val Pelouse |
| Refuges | refuge de la Perrière?, refuge de Férices? |
| Author | davidof |
Trip Reports
17th January 2007
The road was sheet ice after la Tornerie and I left the car here. Some people with chains had climbed as far as the Val Pelouse car park which is quite a feat. The snow on the road was pretty much continuous.
I had hoped for spring snow but the sun never did shine strongly enough through a veil of clouds even though it promised more at times. The traverse is quite long and not really interesting. The alternative zig-zag up and down over the Montagne d'Arvillard looks more tempting and there was just enough snow to ski down to the refuge. I fitted ski crampons after the refuge as the traverse was icy, old tracks having been refrozen overnight. There was pretty good grip on the slopes. Cover on the south face was pretty much restricted to two couloirs.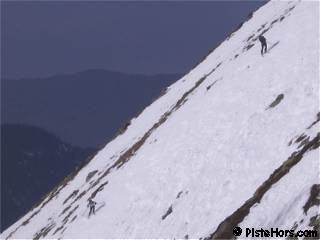 The descent is fairly steep at first
The summit was an impressive site, completely covered with ice (verglas) except the south ridge which had at least seen some sunlight. On the West to North-East sector this ice crust was around 1-2cm thick, breakable underfoot by high dangerous if you were on skis. Underneath was old, compact powder and a thin layer of unconsolidated, facetted, snow crystals. There had probably been a strong temperature gradient beneath this crust. The entrance to the south-west couloir was icy, probably surface water that had refrozen, it didn't look tempting so I returned by the route I'd climbed. The snow was hard but the surface offered very good grip but it was not a place to fall with all the exposed rocks.
I stopped at the refuge to pick up some water and have a whisky with a group of climbers then continued the traverse across to Val Pelouse, here the surface of the snow had melted just enough to give some excellent skiing. Night had fallen when I arrived back at the car after a quarter of an hour descent along the road.
Weather : Warm, slightly overcast
Avalanche Risk:
Participants: David
Snow level: 1000 m
19th February 2008
Not enough of it to cover the bushes at low altitude. The south facing slope was well-consolidated, though perhaps a bit irregular. Coverage was a bit lean. Looked like the only continuous line of snow for descent was along the east edge—which is what I took. In the upper cirque I find some descent heavy-powder-like stuff on NE aspect. A bit crusty on the gentle areas on the cirque. Some decent mushy snow on SE-facing slopes lower down thru sparse trees. The road was almost all well-covered except a little in the last section down to parking.
Weather :
Avalanche Risk:
Participants:

KenR

, Sharon (snowshoes)
Snow level:
Category: Trip Reports
<< Col de la Perrière - gargoton? | Pays d'Allevard | Grands Moulins couloir SW >>