Ski Areas > Northern Alps > Belledonne > Pays d'Allevard > Col De La Balme North east Couloir
Description
From St Hugon take the road to the baraque baraque de Cohardin (vehicle access not allowed on the Isere side and danger or rockfall, 4x4 track on Savoie side).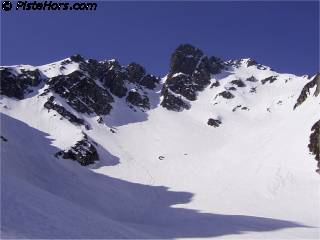 Couloir N/E of the Col de la Balme
Cross over the Bens to climb the path on the right bank to the Pre Nouveau refuge (closed). After the bed of the Bens river is infested with brushwood. You have two choices, either traverse the Bens to follow a forest road not shown on IGN maps which climbs to the Balme chalet (ruins) or continue towards the plan des Ferices and at 1600 meters cross through the brushwood towards a large avalanche zone which descends from the Grde Cristalliere. Continue to the south-west to arrive in a suspended valley. The couloir is obvious, at the end of the valley on the left.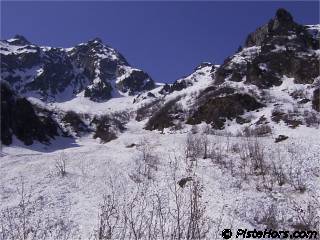 Avalanche track from the Grde Cristalliere
Variants
Possible to climb via the col de la Bourbière or descend via this route if the couloir is not in condition.
| | |
| --- | --- |
| Mountain Range | Belledonne |
| Summit | le Grand Charnier |
| Altitude | 2455m |
| Orientation | North-East |
| Starting Altitude | 1245m |
| Vertical | 1210m |
| Maps | IGN TOP 25 3433 OT Allevard |
| GPS Waypoint | N 45.3642°, E 06.1733° |
| GPS Route | Google-Earth:Cohardin |
| Grade[1] | Danger: 1, Climb: D-, Ski: 4.1 |
| Comments | Short, steep couloir (45° over 50m, 40° over 150m), danger of avalanches from the Cristalliere/Charnier |
| Snowboarders | Yes |
| Equipment | ski crampons, ice ax, crampons |
| Road Access | Goncelin > Allevard > La Chapelle du Bard > Saint Hugon |
| Refuges | refuge de Férices?, Baraque de Cohardin? |
| Author | davidof |
Trip Reports
18th April 2007
The road was clear to Cohardin. I took the option of climbing to the Balme and then the long traverse over to the Cristalliere valley. The refreeze was poor. I climbed the last 100 meters of the couloir on foot. It alternated between soft snow and refrozen crust. Not great for the descent. After the skiing was on very soft snow, like ice soft icecream but not unpleasant to ski. Avoid the bed of the Bens river which is like an tropical jungle with the brushwood, instead head to the west before reaching the valley to traverse to the Balme forest road.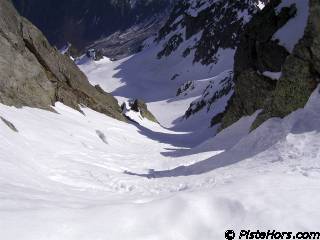 Looking down the couloir
Weather : Very Warm, Sunny, Poor refreeze
Avalanche Risk: Moderate (2/5)
Participants: David
Snow level: 1550 m
Category: Trip Reports << Grande Montagne d'Arvillard? | Pays d'Allevard | Chalet d'Arbaretan? >>