Ski Areas > Northern Alps > Belledonne > Pays d'Allevard > Pointe de Rognier via the Grand Canal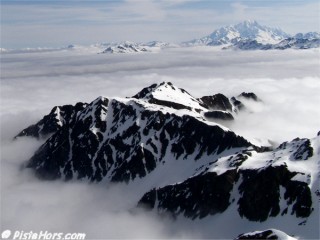 Pointe de Rognier with the Mont Blanc to the top right
The Pointe de Rognier is the last major summit on the northern extent of the Belledonne massif. In summer the climb is an impressive scramble up scree and rocks. It is hard for non-skiers to imagine that the slope can be skied in the winter months. The summit gives views over the Bauges, Maurienne and as far as le Mont Blanc. There is a summit cross and an orientation table.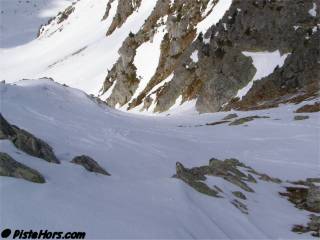 Top of the Grand Canal couloir
From the trailhead at 1220 meters (or lower during the winter) take the forest track over a bridge and after 100 meters turn sharp left onto a wide track. After a short climb this becomes a forest path that crosses a stream at 1320 meters. It is normally possible to ski to this point until mid-April. The path steepens and zig-zags up the right bank of the Gargoton. At 1560 meters (signpost) follow the path to the north to the Sources de Gargoton. The slopes to the south (Montagne d'Arvillard) are prone to avalanche. Leave the summer path that climbs to the Col de la Perche? to your left. This path is encumbered with trees and brushwood. Exit the forest and climb a large south-west facing slope to your left starting at 1663 meters. This leads into the Grand Canal. The bottom of the Grand Canal risks avalanches that descend the west to north west slopes of the Rognier south ridge. The Grand Canal is gentle at first but the last 250 meters climbing are around a 33° slope with a short section at 45°.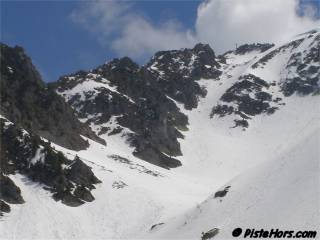 The Grand Canal couloir
An alternative to climbing the Grand Canal, especially if this has deep powder, is to pass over the Pas du Gargotton? to the south and descend into the Plan du Lai. You can easily ski down to 1750 meters adding around 500 meters to the total trip. These east facing slopes catch the sun early in the morning and should be skied around 9-10am in the spring to find the best spring snow conditions and to avoid the risk of wet snow slides.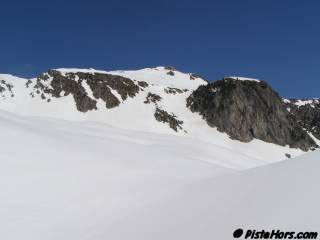 Southern Approach
GPS: N 45.4232° E 06.2184°, 2341 meters
Orientation: WNW
Toponeige Rating: Danger: 1, Climb: D-, Ski: 4.1
Climbing: 1120 meters (from summer parking)
Comments
Still plenty of snow on the 19th of April 2006 although the very top of the couloir had some rocks poking through. The Couloir was still not transformed at 12h30 due to its steep west orientation but lower down the slopes were good. We skied down to the start of the forest at 1320 meters which gave a 20 minute walk to the car parked at 1120 meters (due to snow blocking the road).
<< Col de la Perche? | Pays d'Allevard | Gargoton couloir NW? >>