Ski-Areas > Northern Alps > Isère (38) > Oisans > Les Deux Alpes
Description
The ski resort of Les Deux Alpes is situated in the Oisans area of the Isère department in the Northern Alps. Along with its neighbour l'Alpe d'Huez it forms the two largest resorts in the Oisans and Isère areas.

Les Deux Alpes from the slopes of l'Alpe d'Huez
The lift served area extends from 1300 metres to 3568 metres giving over 2,250 meters of vertical under ideal conditions. There are 220 km of lift served runs covering 420 hectares. The 80 hectares of runs on the Mont de Lans glacier offer guaranteed of skiing, there are a number of easy and intermediate runs at this level. Around 60% of the marked ski runs are suitable for beginners and intermediates with 40% aimed at advanced skiers. There are 13 black, 17 red, 45 blue and 27 green runs. The area also offers over 1000 hectares of off piste skiing. There is a cat skiing link to la Grave and les Vallons de la Meije backcountry domain. This is included in any pass of 6 days or more and a days skiing can be obtained for a small supplement on shorter les Deux Alpes lift passes. It is also possible to ski in l'Alpe d'Huez via a direct shuttle link or helicopter transfer.
The slopes are served by 51 mechanical ski lifts including 23 chair lifts, 19 drag (poma) lifts, 3 gondola lifts, 3 cable cars and an underground funicular railway. The ski lifts carry around 17 million passengers per year with about 1.3 million skier days. The lifts have an total capacity of 71,767 passengers. The DAL employs 120 staff on permanent contracts and up to 380 seasonal employees.
There are 20 km of cross country trails. Les Deux Alpes is open for 9 months of the year. During the winter and spring, for summer glacier skiing at at autumn half term for the Ski and Snowboard Mondials. Les Deux Alpes is an international resort. During the 2005/6 winter 54% of visitors came from outside of France. Foreign visitors include 34% from the United Kingdom, an increase of 11% on the previous year. Other major countries are Holland, Italy and Belgium. The tourist office says that in general the Brits come for the skiing, the Germans for the excellent sports facilities and the Belgiums head for the off-piste. An increasing contingent of Spanish visitors are attracted by the boarder cross and snowpark.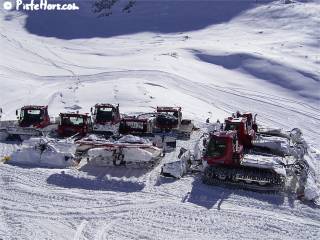 Piste Groomers at rest
From the top of the top of the slopes at over 3,000 meters the view over the French and Italian alps is stunning. From Mont Ventoux in the south to Mont-Blanc and beyond in the north. The resort features "ski to door" for most accomodation thanks to special tracks and artificial snow making. There are over 200 snow canons covering 20 pistes and a total of 47 hectares of slopes. 60% of th ski runs receive daily grooming by from a team of 50, including 38 avalanche control experts, using state of the art Kassbohrer and Prinoth piste bashers. There was a total of 17,000 hours of snow grooming in the 2006 season. The team also erect protective netting, padding and sign posting areas at risk. There are 28 gazex and catex avalanche control systems as well as 1 avalancheur.
Les Deux Alpes is following the trend to themed slopes the Slide zone, freeride Fun zone and Snowpark have won international acclaim. Les Deux Alpes is a paradise for the new boardsports. The resort has a snowpark, boardsports areas and a freecross area (boardercross and skiercross).
The Snowpark
The winter snowpark, situated in the La Toura sector operates in winter and in summer the snowpark moves to the glacier, where it welcomes the greatest riders on the planet. Numerous French and international events are hosted here. The snowpark covers 10 hectares of slopes. There is beginners' area aimed specifically at inexperienced freestylers. It provides a succession of small kickers (6 moguls) which enable the most intrepid to try their first jumps.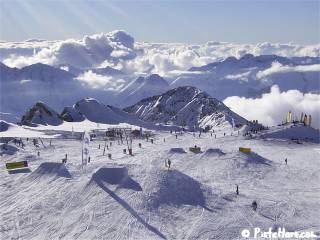 The winter half-pipe is 120 meters long and meters high. Half-pipe is an Olympic discipline. There are two half-pipes in summer. A slope style zone provides a succession of technical modules such as hips, gaps or quarters before reaching the handrail zones over a course that is nearly 400 meters long. There is also an area 100% devoted to and equipped for snow skates (equipment can be borrowed on site in exchange for an item of identification). A chill-out zone with BBQ, music, open DJ turntable and deck chairs to recover.
Slide Zone
Visitors wishing to experience new sensations or freestyle can enjoy the "SLIDE" zone, a universe of newschool boardsports, which opened in 2003.
The slide zone includes:
The couloir: 3100 m: 150 m long at 35°
The corniche: 2800 m: Jumps 1 to 5 m high
The canyons: 3000 m: fun trail with banked turns
The cascades: 2800 m: Experience your first jumps in complete safety
Boardercross: 2600 m: built during summer of 2003, this facility, situated on the Toura piste, offers a succession of moguls, banked turns etc between 2770 m and 2585 m. It can host official competitions in the discipline (altitude difference: 185 m – Linear length: 800 m – Actual length: 1000 to 1230 m)
There is a second Boardercross at 2600 m is designed for beginners.
JTS (jumping training system)
It is a simple concept, a 14 by 28 meter landing mattress lets inexperienced or experienced freestylers train for the jumps of their dreams in complete safety. Knowing there is a safe landing means less apprehension, minimum risk, and optimum safety.
Winter Mountain biking
The resort is famous for its downhill mountain biking circuit. This is one aspect of the resort we like less as the slopes are cut up by mountain bike tracks and assorted paraphernalia. From 2006 the bike park will be open all winter from 18h30 to 20h30 on Thursdays. Snowbike sessions offers mountain bikers the chance to use the ski runs starting at 3200 meters from 7h30, This is before skiers are allowed on the slopes. There are six sessions scheduled for 2007: 17 February, 24 February, 3 March, 10 March, 7 April and 14 April 2007 – the price is € 25, which includes the descent and breakfast.
Après Ski
The resort estimates that 30% of visitors neither ski or snowboard. The guides office offers snow shoe tours on the glacier including a visit to crevasses at 3200 meters. The many frozen waterfalls are also a mecca for ice climbing enthusiasts. The two original villages of Venosc and Mont-de-Lans are well worth visiting. Venosc is linked by a gondola lift.
Les Deux Alpes offers excellent sports amenities including a heated outdoor swimming pool, an indoor swimming pool, an artificial outdoor skating rink as well as fitness and relaxation centres, squash courts, spas, Turkish baths, saunas, relaxation tanks, health runs, slimming courses, massages, relaxation, gym, muscular training, fitness, cardio-training, aquagym, solarium, UVA. There is barely time left for skiing!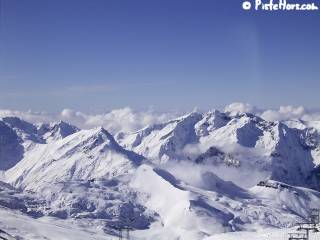 Views from the glacier
The many luxury apartment blocks and traditional hotels complement these facilities with fitness training, aquagym, shiatsu, complete massage programmes (body shaping, Zen, beauty, healthy back, happy mum or getting ready to go skiing).
Apart from the many bars and restaurants there is also bowling, pool and a cinema. The ski instructors also run nightime torchlight ski descents accompanied by a firework display
News
A majority stake in Deux Alpes Loisirs which owns the resort's ski lifts was put up for sale at the end of 2008 and has apparently been bought by the Compagnie-Des-Alpes which already has a controlling interest in nearby Serre Chevalier?. The new operator has a concession for 13 years and will have to deal with aging infrastructure such as the Diable gondola lift which is 35 years old. Apart from the lifts, Deux Alpes Loisirs owns a travel agency, the swimming pool and ice rink plus 1400 beds worth of apartments as well as the mountain restaurants of les Glaciers and the Chalet de la Toura.
The DAL employes 400 season and permanent staff with a turnover in 2008 of nearly 35 million euros.
History
Les Deux Alpes ski resort was started in 1946 and much of its real estate development dates from the 70s. Deux Alpes Loisirs regrouped a number of lift concessions and was registered in June 1964. If you have not visited the resort for a while you may be surprised at some of the changes. Today, the resort is having a makeover. Façades are being covered with wooden cladding and interiors are being modernised and enlarged. In addition to investing in the skiing area, the ski lift company, Deux Alpes Loisirs (DAL), is investing in a real estate development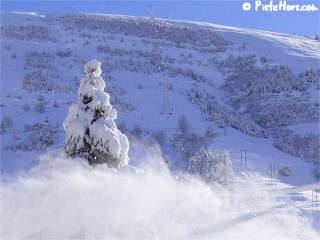 In 1997, the DAL acquired apartments with a view to their rehabilitation and, in 2003, it bought out a number of hotels in order to turn them into high class residences. In 2005, the residence, Le Cortina, saw the light of day. A high class residence situated close to the Place de Venosc, in a lively part of the resort, a residence with top of the range amenities, luxurious and spacious apartments, an authentic character and only a short walk from the ski lifts. In 2007, the new Alba residence of will open followed by further apartment blocks in 2008. Today's apartments are larger and better appointed. The average renovation has cost € 3000 per m².
Travel
The road link has been much improved over the last decade and the slopes can be reached within an hour 's drive from Grenoble. There is a regular bus service from Grenoble train station and also a direct bus link running twice weekly from l'Alpe d'Huez.
Nearest Airport(s): Grenoble St-Geoirs 110km, Lyon Saint-Exupery 160km, Chambery 135km, Turin 175km
Note that Turin airport is via the Col du Lauteret which can close during bad weather
Road: Grenoble -> A480 -> Exit 8 Briançon -> N85 -> N91 -> Chambon Dam -> D220 (chains mandatory after Bourg d'Oisans/La Rampe des Commères)
Rail: TGV Grenoble then regular VFD bus service to les Deux Alpes
Accomodation
Restaurants and Bars
64 restaurants in town, 9 mountain restaurants
30 bars and 3 nightclubs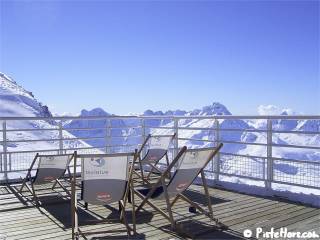 Shopping
The resort has 128 stores including sports shops, 15 prêt-a-porter boutiques, 8 food shops and 6 shops selling regional products. There are also 13 estate agencies. You can buy the latest ski and snowboard gear, clothing, souvenirs and traditional regional food and drink. Go easy on the Genepy.
L2A

Sport Discount

A 200m² shop dedicated to snowsports. We have a wide range of equipment available for all ages and abilities, from beginners through to competition standard. We also have a wide range of equipment for off-piste and freestyle. All our equipment is in excellent condition as the shop only opened in December 2008. For your comfort and safety we have expert ski technicians who will fit your boots and set up your bindings. We can also offer a delivery service to your hotel after your equipment has been fitted.

Adult skis and boots from just €36.85 per week.

L2A Sport Discount, 1 rue du Cairou, 38860 Les 2 Alpes

Telephone : 0033 (0)4 76 80 17 98

Website: http://www.2alpes-location-de-ski.com/
Guides and Instructors
There are nearly 300 ski instructors and ten high mountain guides working for 10 ski schools: ESF, Ecole Ski St Christophe, European Ski School, (these three are "standard" ski schools). Easiski (private and small group lessons, max 4, http://www.easiski.com). Ski Privilège (Anne Millet, race training and large group lessons), 2 UCPA centres, The Salomon Station (part of the ESF) and Pierre Alain Carrel (Race training only). Specialist snowboard schools are: Burton Connexion, Primitive Snowboard School and Bliss Snow School
A range of activities are offered including preparation for the ski instructor certificate, all mountain skiing, slalom, giant slalom training, timed test, Damien Albert courses (freeride, off piste, mogul skiing).
Stefan Garczynski
Guide de Haute Montagne lives and works locally: Alpe d'Huez, la Grave, les Deux Alpes tel: (33) 04 76 80 09 25 or mobile (33) 06 80 89 84 25
Evolution 2
Evolution 2 is a ski and snowboard school offering all levels of instruction. Our multi-lingual (English, French and Italian speaking) professionals are able to offer ski or snowboard lessons for children, teens and adults in either groups of no more than 4 people or groups of up to 8 people. We also offer off-piste guiding, freestyle and race technique lessons. For children there are free medals, free use of helmets, free certificates and a private bus for collection before lessons. Our aim is to offer a personal approach to learning so that you feel a great sense of achievement and progression while having fun.
Evolution 2, 1 rue du Cairou, 38860 Les 2 Alpes
Telephone : 0033 (0)4 76 80 17 98
Website: http://www.evolution2-2alpes.com
Useful Information
http://www.les2alpes.com/ email: les2alp@les2alpes.com
Category: Ski Areas
<< Le Sappey | Isère | Les Sept Laux >>