Ski-Areas > Northern Alps > Isère (38) > Les Deux Alpes > Deux Alpes Off Piste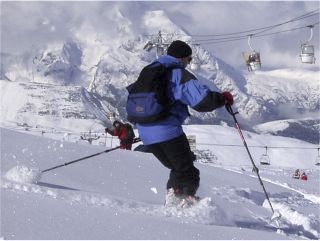 Pied Moutet Sector
The Pied Moutet which is a 2339 meter summit on the west side of the village. The summit is a popular walking route in the summer as it is a good viewpoint. It is also the birthplace of the ski area, the first drag lift was installed here in the early 1940s. You should also be aware that the off pistes have been the scene of a number of avalanche deaths over the years and should be treated with respect.
To access the area take the Super Venosc chairlift which brings you to the Troika restaurant. If you are located at the north end of town the Vallee Blanche chair gets you to nearly the same altitude.
Montagne de Rachas
Take the Diable gondola. The Montagne de Rachas (Tete des Rachas) is directly ahead to the east. To reach the summit take the Super Diable chair, ski north to reach the Col entre les Tetes (2696 meters) and climb the south facing slope to the 2748 meter summit. Worth fitting skins here. Due to the convex nature of the summit getting your bearings at the top can be tricky.
Jandri Sector
<< History | Les Deux Alpes | Travel >>