Gear > Ski > Freerando > Freerando Boots > Garmont Xena
The Xena uses a shell similar to the Endorphin but with componentry borrowed from the Garmont Adrenalin to produce a stiff ski touring boot built for the different morphology and sizing of women's feet. The principle difference between the Garmont Endorphin Mg and Xena is a saving of 200g per pair in size 24.5 but lighter weight buckles without the ice-breaker pins and the old Adrenalin sole and ski/walk lever. The new ice-breaker buckles, which also debut on the Garmont Mega Ride G-Fit and Garmont Mega Lite are extremely useful for breaking ice buildup on boot clips that is somewhat inevitable with ski touring and climbing in snow.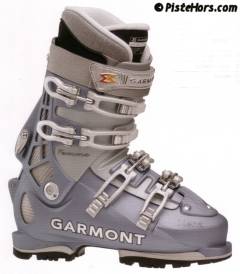 Garmont Xena Freerando ski boot
The boot is available with both the G-fit 3 and Pad-Lock inner boots. The G-fit- 3 liner is lightweight and fully thermoformable for both comfort and warmth. The Pad-Lock liner is what you will get with rental boots and has a sole for hut use. Both liners lace up which Garmont says improves comfort and fit.
The Xena has a selectable forward lean of 20° and 25° and a walk mode and comes with 4 buckles plus power strap. Like the Adrenalin and Endorphin Mg there are no Dynafit inserts.
Size: 23 – 27.5
Weight: 3300g per pair in size 24.5 with g-fit 3 thermo liner
Manufacturer Garmont
<< Garmont Shaman | Freerando Boots | Scarpa Tornado >>
---