Gear > Ski > Freerando > Freerando Boots > Garmont Endorphin Mg
New for the 2006/7 season the Endorphin complements the Garmont Adrenalin in the freerando end of the ski touring boot market. It comes with G-fit 3 and Pad-Lock linings with separate liners to fit the morphology of women's and men's feet. The G-fit 3 liner uses a tough outer material, often a weak point on thermo liners and comes with a lacing system. However the liner is not suitable for use as a refuge boot. The Pad lock liner is non thermoformable and has a sole suitable for hut wear.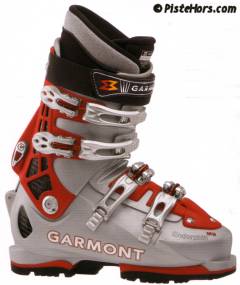 Garmont Endorphin Mg
The boot has four Magnesium buckles arranged as inverted pairs so they don't interfere with each other if released for walking. The top buckles have an additional hook that secures the buckle for relaxed walking and can be adjusted up to 18mm for a variety of calve widths. The lower pair have ice-breaker pins for breaking through ice build up. All the buckles can be field replaced with a screwdriver.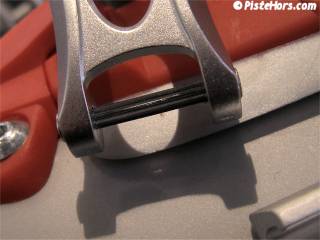 The shell fit is said to be identical to the Adrenalin's. Traditionally Garmont has fitted a narrower foot than Scarpa but the Adrenalin increased foot volume. The boot has an anatomic lower shell and toe box which is supposed to reduce pressure on the first metatarsal while still holding the foot securely. This undoubtedly depends on foot shape. Like other top range touring boots the cuff uses multi-injection and the men's boots have a height adjustable spoiler.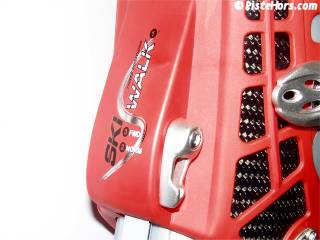 The Endorphin has two positions of forward lean that can be selected with the ski-walk lever: 20° and 25° as well as a walk position where the cuff is free to move both forwards and backwards. Carbon fibre reinforcements are clearly visible on the heel and cuff, these are said to reduce weight without sacrificing performance. They certainly look nice.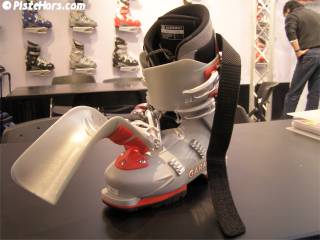 The boots can be canted. The boots also adopt the Broadband 2 tongue system that was pioneered on the Adrenalin. This double injected tongue has firmer plastic under the buckles to distribute pressure while offering progressive forward flex. It is higher and stiffer on the inside of the boot for ski edging performance with fat skis while enabling ankle flexion for the uphill ski. The soles continue the Adrenalins interchangeable design with a plastic Din Iso compatible sole for alpine bindings and a new Uni sole for ski touring use.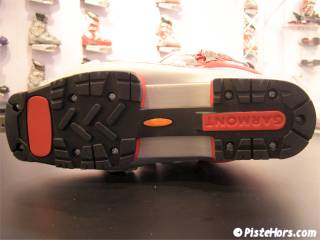 4 Magnesium buckle with powerstrap
Pad-Lock "rental" liner or g-fit 3 thermo liner
Weight: 4000g in 27.5 (mens), 3500g in 24.5 (womens). Per pair thermo liners.
Sizes: 25-30.5 (mens); 23 – 27.5 (womens)
Manufacturer: Garmont
<< Garmont Axon | Freerando Boots | Garmont Radium? >>
---