Gear > Ski
Contents
Introduction
If the off-piste skier is largely covering lift served terrain with short (less than 30 minutes) walks then existing alpine ski gear will be sufficient. However once you start going further a field, involving climbs up to 3 hours over sometimes glaciated terrain the safety and comfort of a touring rig will be appreciated. At one time serious off-piste skiers such as the legendary Jean Marc-Bonvin wouldn't have dreamt of trading the performance of their alpine skis and boots for a touring set-up. For longer climbs they used a rando-clip, a device that would have freed their heel for climbing with skins or even gone on foot with crampons. Once at the summit or top of the couloir these clips would be removed and safely stowed in the rucksack. The trade was downhill performance for a considerable amount of weight, both climbing and in the rucksack. Even serious ski tourers might have eschewed the randonnée skis on offer and have mounted their bindings on alpine skis, although probably in a shorter length than they would have used on groomed slopes.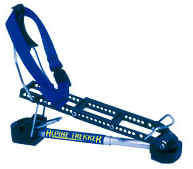 Rando Clip
However the revolution seen in piste skis in both shape and materials have not left the touring scene untouched. Although it remains true that the lighter backcountry skis don't offer sufficient downhill performance it is possible to use the same set-up for both off and on-piste skiing. One of the first skis to achieve this cross-over was the classic Dynastar 4x4 Vertical. Mounted with the Swiss Diamir bindings and brakes skiers had a set-up which was as convenient off piste as well as on. Indeed the increased ride height of the Diamir made the set-up ideal for carving on the slopes and such was the popularity of this ski that Pomoca even manufactures a climbing skin tailored just for its wide profile.
Nowadays backcountry is in fashion. It is not only ski tourers and off-piste skiers who are getting away from resorts and climbing. Freestyle skiers, raised in the snowpark are increasing heading into the mountains and building their own kickers and this usually implies both a climb and a descent.
Weights
There is always a debate over weight versus performance but everyone is interested in what their equipment weighs. This information can be hard to find and that published by manufacturers is often erroneous. We've weighed lots of skis and boots with our digital scale and we present the results here.
<< | Gear | Backcountry Snowboarding >>
---