Pyrenean Ski Stations Hit Jackpot in 2005
At PisteHors.com we have a certain affinity for skiing in the Pyrénees. Compared to the Alps they have a savage grandeur and have retained a certain authenticity. The mountains are home to 27 ski resorts and around 1000km of piste - okay so that would fit into the Trois Vallées and Paradiski ski areas alone but is represents a turnover of 84 million euros, a figure that has increased constantly since the millennium.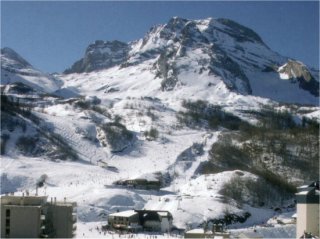 Gourette has invested heavily
This season was no exception with an overall 12% increase. The resorts have been investing heavily in infrastructure. High speed chairs are not uncommon in resorts these days. Over the last 12 months Gourette in the Atlantic Pyrenees has seen on of Europe's largest ski investments. A project totalling 18.3 million euros with 10 million euros spent during 2004 alone.
Gourette claim that their new infrastructure respects the environment. Three new lifts replace a number of aging surface lifts with an increase in capacity but a reduction in the overall number pylons. The new gondola at Bezou has a capacity of 2,700 pax/hour replacing an existing lift with a capactiy of just 500 pax/hour. A high speed chair has been built at Plaa Ségouné and the Anglas chair improves access to the Pene Blanque sector.
The 2005 season will see 65 new snow canons and a reservoir of 70,000 cubic meters in the Bezou sector. By the winter of 2005 Gourette hopes to have 40 hectares of artificial snowmaking supplied by a total of 150 canons. The piste and avalanche security is also being revised, a positive sign is given the death of a skier close to the pistes in the Pene Blanque sector this spring. Overall the Pyrénées ski resorts invested a total of 53.6 million euros in 2004, an increase of 15.3% on the previous year. For its efforts Gourette announced an excellent season with lift receipts of 7.1 million euros representing 435,556 skier/days, an increase of a whopping 37.4% over the previous year. The resort was open for 132 days, an increase of 22% on the previous season. The resort saw an average of 7000 visitors each weekend compared with 5500 in 2004. This rose to 8000 during the peak February holiday. There are plans to increase car parking capacity by 700 places next year. Occupation was also up 15% during February.
Elsewhere in the Atlantic Pyrenees La Pierre St Martin saw an increase of 35.4% in lift past turnover. Fortunes were mixed for the cross-country ski area of Somport which suffered from frequent blockages of the RN134 due to heavy snowfall and cold weather and Issarbe which improved its turnover on a lower number of visitors. The resort of Artouste was unable to open for the 2004/05 season due to financial difficulties. It is still looking for someone to take over operations for next season.
Marketing of the Pyrénées resorts is now targeting a wealthier Parisian clientele with campaigns in the metro system over the winter. Despite the presence of low cost operators, notably Ryanair, Flybe and Easyjet the foreign market is still underdeveloped with tour operators currently focussed on Andora. Olivier Guyonneau who markets the off-piste ski area of the Pic-du-Midi explained that the region is held back by lack of high quality accommodation and transport infrastructure.
The season saw record snowfalls from early in November, before most of the resorts were ready through to May. Hautecam had not scheduled its safety inspection until the end of the month but Ax-les-Thermes which has improved access with a new gondala lift from the town was able to open part of its domain. Ax increased its turnover by 30% however the frequent closure of the RN20 penalized Porte Puymorens which saw a 3% drop in turnover and the Andorran ski resorts higher up the valley. Some British tourists were even forced to spend a chilly 24 hours on their tour-bus when it got blocked by snow. Ax had a long season, it was open 150 days, 18% more than the previous year.
It was small stations that really hit pay dirt. Guzet Neige comfortably beat its lift receipts of the previous season, up 13%, which were already a record and that on a short season of just over 3 months. Mourtis also had a good season. Hautacam made enough money to upgrade one of its lifts, although it still lacks snowmaking. Tiny Les Monts d'Olmes increased its turnover from 570,000 to 800,000 euros. The station has recently been brought under the management of the local communities with improvements including 76 snow canons which enabled an early opening and a season extended by 3 weeks.
The picture in the bigger Pyrenean resorts is more mixd. Le Tourmalet (+10.4%) and St Lary (+14%) achieved double figure increases whereas Piau-Engaly (-5.2%) turnover decreased. Piau and Les Angles hold the record for open days, 156 in total figures that compare very well with the Northern-Alpes although for Piau this represented a drop of 12.8% on the previous season which probably accounted for their decrease in turnover.

Finally the season finished with a flourish. At least for those people prepared to climb. Snow down to 1500 meters covered the mountains in early May.
Posted by
davidof
on Thursday, 03 November, 2005 at 07:45 PM
Comments are now closed