Ski Areas > Pyrénées > Hautes-Pyrénées > Vallee-de-Ossoue
At the end of April 2003 I got an email from Eric, an Internet ski contact, inviting me to four days ski touring in the Hautes-Pyrénées. I was planning on going to Chamonix the week after and was also in the process of changing job so the timing didn't look good. But four days in the Pyrenees, with a chance to climb the legendary Vignemale on skis was not to be missed.
I hunted around for trains. As this was a spring holiday weekend and pretty much everything from Paris was booked. I got a pre-reservation ticket on the 19.30 high speed train to Bordeaux. In theory this ticket either meant standing or sitting on one of the little fold down seats between the coaches. For the return only the night train from Tarbes was available, this would mean rolling into the Gare d'Austerlitz at 7am, heading home for a shower and then off to work. Well I could always find somewhere to sleep when I got there.
So I met with Eric and our host, Lionel at Bordeaux station and we went off to Lionel's house for a late supper of wine and Risotto. Lionel kept offering more food, "you'll need the calories over the coming days", he advised. I'm no stranger to ski touring, but normally I climb less and with a lighter load than I was expected to carry. Our equipment included crampons an ice axe, although I think the effect could be measured more psychologically than in their actual weight. We rose at 5 am the next day for the long drive to the mountains. The weather did not look wonderful and in the end we settled on le Soum d'Arriou-Ne, a 2,577 meter peak just on the edge of the Luz-Ardiden ski domain as a warm-up before the other's arrived.
Approach March
We headed down the mountain, admiring the spring lambs grazing on the pastures and just passed Gavarnie-Gèdre turned up the road to the Ossoue Dam road to meet with our friends. We were blocked at 1500 meters by a large avalanche that had crossed the road and continued into the riverbed below. The sound of cascading water could be clearly heard through its covering of snow. Eric told us of a skier who had fallen through snow covering a stream and who had then been taken hundreds of meters along an icy tunnel to his death from cold and drowning. I thought about this every time we crossed a river over the next few days and was very wary about approaching the banks of a river on snow. Our friends had already left for the Milhas Cabin, some kilometres up the road. They were taking the bulk of their supplies using a mountain bike equipped with a trailer. They would also carry lots of wine and firewood up to the hut. We kitted up and started the march in T-shirts and heavy ski mountaineering boots. The first avalanche was reasonably easy to cross, a footpath had been trodden by the many walkers but at the next we had to climb down a wall, cross through a gap where the snow had collapsed, then climb up another wall. This must have been particularly tricky with the mountain bike and we were baffled at how they'd overcome this obstacle. It was only later that we realised that the spring weather had melted a tunnel between the cliff and snow, we'd seen the opening but in the dark had not realised it went right through the 100 meter wide slide.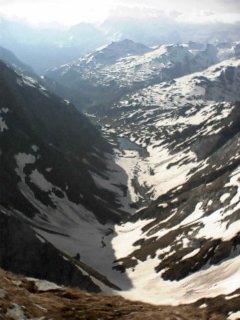 We had to cross a final avalanche and then we were on our way to the hut. Arriving somewhat tired and with sore feet some 2 hours after setting out. We'd gained a mere 185 meters in altitude over xxx km of road but were pleased to be greeted by a roaring fire at the hut and settled down to a glass of red wine. Our friends were members of the Agen section of the Club Alpin Francais, Lionel was one of the 'initiators' or guides for this group although he had now moved to Bordeaux. They had just taken delivery of a set of band new Nic-Impex Arva Evolution avalanche transceivers and we decided to organise a search exercise before preparing dinner. It would be useful for everyone to brush up their technique. I have the Arva 9000 beeper and am quite familiar with its operation. I explained some of the features of the device to the others. Although the interface of the new model looks the same the ability to search for multiple victims has been improved, both in terms of the software and through a LED which indicates when there is more than 1 victim.
We didn't have any snow, but marmot holes and other features served to hide the 'victim' avalanche transceivers. We set up a virtual avalanche and started to search. Eric was using a digital Barryvox Opto 3000, another excellent Swiss beeper and Lionel had a trusty Ortovox F1. After some practise everyone could locate a transceiver within a few minutes and had learned to distinguish between multiple victims. In the end we had four or five victims and even walked around with some transceivers to add to the fun, although not everyone was amused. The exercise brought home that it was not just a case of the time to search and locate a victim but that route finding and safe skiing are key parts of a safe trip.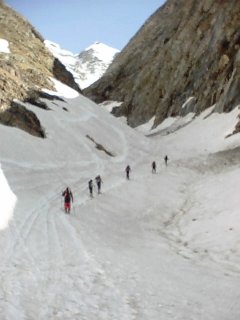 Climbing in the upper Ossoue valley
We pitched two tents outside and four of us got to sleep in the cabin at around 10pm in front of a roaring fire. At midnight there was a scratching at the door and Bernard came in from his tent. The sound of the babbling river was keeping him awake so he decided to sleep with us. Ahhhh.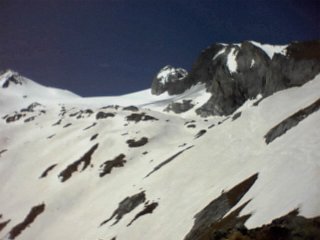 Vignemale glacier
Over four days some 5,000 vertical meters had been covered. All that remained was to pack up our gear stashed at the cabin and take the long walk back to the car. I was determined to be as comfortable as possible and stripped right down to my shorts and T-shirt, although was still wearing my ski boots. My rucksack was piled high with pot and pans and other camping gear along with any rubbish we couldn't burn in the fireplace. With the jagged Pyrenean mountains, Isards (mountain goats) and high plains the whole groups looked like an expedition returning from the Himalayas.
Homeward Bound
Lionel and Eric dropped me at Tarbes railway station around 7pm. I had a three hour wait for my train to Paris. Out of interest I had a look on the reservation system and noticed a night TGV that left just after my sleeper train and arrived at Montparnasse around 6am. I've never been able to sleep on the uncomfortable couchettes on the SNCF night trains and realised that I could swap my 110 Euro ticket for a 44 Euro ticket in first class. This seemed like a good deal and I would get at least 2 hours kip in a comfy bed back in my girlfriend's Paris apartment. This then got me thinking, the 44 Euro price is for an immediate booking.
With a bit of planning and given the good will of the snow gods I could book a ticket 30 days in advance and get good discounts. This meant that I could leave Montparnasse on a Friday night, arrive at Tarbes at dawn to go on to any of the ski stations in the Hautes Pyrénées for a long weekend of ski touring. A plan so cunning you could stick a beret on it and call it a French peasant! Well that would have to wait for next year, but it would be great to kick off the season with a November climb to the Pic du Midi.
Tarbes doesn't seem to offer a great deal. I ate at a restaurant opposite the station then boarded a surprisingly busy TGV. Back in Paris I stepped out under grey skies and onto streets damp with a recent shower to trudge the 20 minutes home laden down with skis, blisters and memories of a fantastic trip.
Map: IGN Top 25 1647 OT
<< | Hautes-Pyrénées | Barèges >>