Ski-Areas > Pyrénées > Hautes-Pyrénées (65) > Pays Toy > Luz-Ardiden > Le Soum d'Arriou Ne
Description
From the resort climb south into a steep bowl then up a valley that leads to the Col de Cloze. Here there is a view over wilder backcountry peaks like the Ardiden. Turn westwards to the summit, leaving skis for a scramble up some rocks to a large cairn.
| | |
| --- | --- |
| Mountain Range | Hautes-Pyrénées |
| Summit | Soum d'Arriou Né |
| Altitude | 2577 meters |
| Orientation | North |
| Starting Altitude | 1734 meters |
| Vertical | 850 meters |
| Maps | TOP 25 1748OT Gavarnie |
| GPS Waypoint | |
| GPS Route | Google-Earth: |
| Grade[1] | Danger: 1, Climb: F, Ski: 2.1 |
| Comments | 40° in the Pas de l'Oeille - danger of death if you slip |
| Snowboarders | Yes |
| Equipment | ski crampons |
| Road Access | Lourdes -> Luz St Sauveur -> Luz Ardiden |
| Author | davidof |
Trip Reports
30th April 2003
The weather did not look wonderful for the start of our long weekend ski touring in the Hautes-Pyrénées; a southerly wind was driving clouds up from Spain and covering the mountain tops. For the first day we looked for a peak to the north that would be protected to some extent from this bad weather.
In the end we settled on the Soum d'Arriou-Ne, a 2,577 meter peak just on the edge of the Luz-Ardiden ski domain. We would be climbing through the ski station, which meant there would be snow as it had only closed the previous weekend, but also meant we had the less than aesthetic surroundings of ski lifts and pistes blasted through the mountainside. We crossed another skier on the way down, he told us the skiing was okay.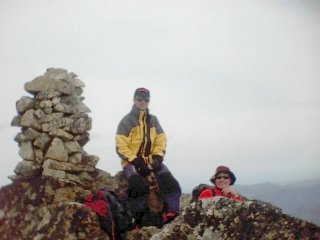 Le Soum d'Arriou-Ne Marmottes
On the descent Lionel noticed a nasty danger. There were sharp wooden stakes poking just proud of the snow, a fall on one of these could be particularly serious. They were the remains of broken piste markers. Presumably the ski resort would clear them when the snow finally melted in the summer, but they are yet another trap for backcountry skiers venturing into ski domains. On a more positive note, the pistes were an Aladdin's cave of treasure. The receding snow had uncovered all sorts of goodies, from Euro coins to an expensive ladies watch, still set to wintertime. For the latter I contacted the ski resort's lost property. I could see that coming to resorts with a metal detector could be quite a profitable activity. I remember a friend of mine telling me he'd been to a 'clear up' at Val Thorens one summer and amongst other things they found numerous items of ladies underwear discarded on the ski pistes.
Category: Trip Reports
<< Off Piste Routes | Luz-Ardiden | Travel >>