This page is just a stub. You can help by expanding it.
Ski-Areas > Pyrénées > Hautes-Pyrénées (65) > Pays Toy > Luz-Ardiden
Contents
Description
The ski resort of Luz-Ardiden is situated in the Pays Toy area of the Hautes-Pyrénées department in the Pyrénées region. The lift served area extends from 1700 metres to 2500 metres. There are 60 km of lift served runs. There are 5 km of cross country trails. The resort features a snowpark.
History
Add a history of the resort here
Off Piste Routes
The Luz ski area is actually quite interesting for lift served off piste located between 1730 and 2500 meters. When the snow is good you can ski down past Aulian to Sazos and beyond. From the summit of the Bédéret lifts you cross into a large east-facing bowl of the Combe des Aulhères, which offers 800 meters of vertical. Before you reach the Bédéret road a traverse brings you back to Aulian.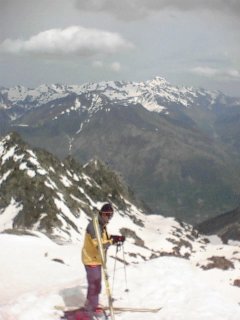 Le Soum d'Arriou-Ne at Luz
The Aulian bowl offers some interesting terrain although rather too close to the pistes for some tastes.
From the Col de Cloze we spotted some interesting possibilities to the east in the Cirque de Cloze, here you are completely outside the ski domain in a real mountain environment with the additional risks that entails. The descent though a large valley brings you out on a track that leads to the village of Aynis. Watch out for cliffs after the lac de l'Espuguette.
Travel
Nearest Airport(s): Lourdes (25km), Biaritz, Pau, Toulouse (220km)
Road: N21 then D12 from Luz Saint-Saveur
Rail: Lourdes TGV (direct trains from Paris)
Accomodation
You can include a short description of any accomodation along with a link.
Restaurants and Bars
Tell readers about any good restaurants and bars in the resort
Shopping
We don't all ski 24/7, if there are shops: ski, fashion or bookstores you think people should know about mention them here.
Guides and Instructors
Only include guides and instructors who cater for off-piste or backcountry. Please specify whether they take snowboarders.
Useful Information
email: webmaster@luz.org
Respect copyright. Contributions must be your own work and not copied from other web pages or elsewhere.
Category: Ski Areas
<< La Mongie | Hautes-Pyrénées | Peyragudes >>