Ski-Areas > Northern Alps > Isère (38) > Belledonne > Col du Barioz
Col du Barrioz
Contents
Description
The ski resort of Col du Barioz is situated in the Belledonne area of the Isère department in the Northern Alps region. Principally a cross country ski area with 52 km of trails there is also a small private ski area owned by the Allevard ski club with two lifts. The base of the pistes is at 1360 meters and the summit at 1690 giving a nice steep 330 meters of vertical over two fiersomely steep runs. Cross country skiers can wend their way to the summit of the Grand Rocher at 1926 meters giving superb views over the Sept Laux and Chartreuse mountains and a feeling of a sense of adventure.
Off Piste Routes
Le Cul de Pet
This route, above the town of Theys (the final 's' is spoken), is much less travelled than the Grand Rocher but offers some more interesting skiing. From Theys take the road to the col du Barioz and at the exit of the village turn right in the direction of Le Molard then the Granges du Replat. The route is ploughed to 1100 mètres. Park your car at the Duits bend at 1005 meters or higher depending on the snow conditions.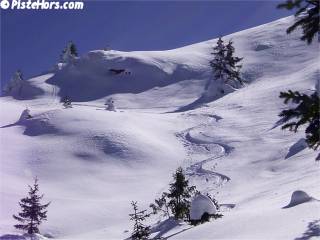 Slopes under the Cul de Pet
Climb the road looking for a track that traverses the forest on the right. When you ski down the forest is wide enough to make turns, assuming there is enough snow cover. At 1250m you rejoin the road which you have to follow for 200 meters after which you take a forest road which climbs to the right. At 1350 meters you join a track that leads to the Barioz cross-country ski trails at les Ramiettes around 1450 mètres. Follow the trails for some 300 meters before taking a short track on the left that once again joins the cross-country trails at 1500m. Follow the trails to a right hand hairpin at 1540 meters, here take the path that leads through the forest directly east. This takes you to the Lac Leatel and the Cul de Pet.
To reach the summit do not take the steep north face (slopes to 40 degrees). The slopes above the Lac Leatel are around 30 degrees and less likely to avalanche. The toponeige rating is 1.3 with no objective danger.
Date Skied: 12 March 2005
Travel
Nearest Airports: Grenoble St Geoirs, Chambéry
Road: A41 -> Brignoud -> Theys (D280) -> Col du Barioz or from St Pierre d'Allevard via the D280
Rail: Goncelin
Restaurants and Bars
The Refuge Cret du Poulet is apparently open at weekends for food otherwise the cross country ski area has a small cafe.
Website
Category: Ski Areas
<< Col de l'Arzelier | Isère | Col du Coq >>