Ski-Areas > Northern Alps > Isère (38) > Chartreuse > Col Du Coq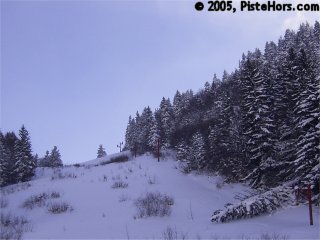 The old red piste
The Col du Coq was a micro-station close to Grenoble on the road pass of the same name. The station was located on North-West facing slopes behind the massive block of the Dent du Crolles. To reach the station skiers had to first cross the 1400 meter unsurfaced road pass and then drive down to the large car park.
It was not economic problems or lack of snow that finished this little family station but retirement. The owners ran the station in the winter and farmed the land in the summer. The son had left France for a new life in California where he had met his lovely American wife. The mother used to run the small Gite and the husband the ski slopes. There was a tiny ESF ski school and ski hire. Around 1995 they decided to retire and the station was put on the market. However the situation was complicated by the fact that they only leased the slopes from the owner. So potential purchasers had to buy the buildings and ski lifts from one set of owners and then negotiate with another owner for the slopes.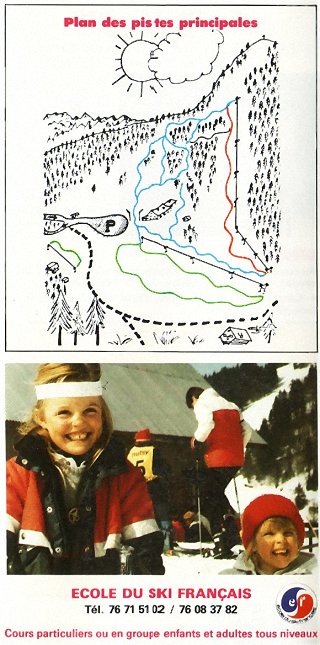 This lead to court cases and interminable disputes. The station was finally put on the market for 5 million Francs. St Bernard du Touvet was interested as the closure of the area had had a knock on effect on their shops and restaurants. But they had their own ski area to look after and the price was too high. Today the restaurant has been vandalised and now demolished and the ski lifts lie rusting. There are rumours that it will be put into use again, but as a cross country ski area.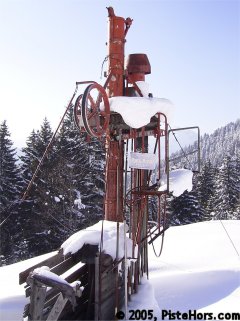 Drag lift in 2005
I've got good memories of this pretty little low key ski station, spending sunny spring afternoons sitting on their terrace eating crepes and cider and it was a great shame when it closed down.
Will Downhill Sking Return to the Col du Coq?
(Article from the Dauphiné Liberé May 2005)
The question was already posed a couple of years ago during a study by the Regional Council and the Chartreuse Regional Natural Park about the future of the site. The study took place against a background of more rational departmental politics that is oriented towards the diversification of mid-mountain ski areas.
A question and an expected response, because this little station of the Col du Coq, born in 1960 is something of a cult in the Isère. Many Grenoblois and Isèrois got onto skis for the first time up there in what is still known as a little pocket of snow. Even if sunshine is less exceptional the station complemented the other sites on the Plateau des Petites Roches - St Bernard and Saint-Hilaire du Touvet.
Ski Touring Routes
Nearest Airport(s): Grenoble St Geoirs, Chambéry
Road:
Rail: Grenoble TGV or Brignoud
Category: Ski Areas
<< Col du Barioz | Isère | Correncon en Vercors >>