Gear > Ski > Freerando > Freerando Bindings
Freerando or backcountry freeride bindings should work well both on and off piste. Pure lightweight touring climbing ability is not the primary goal, instead the emphasis is on a wide DIN range to cope with more dynamic skiing in a variety of conditions, good release characteristics both at the toe and heel and beefy quality construction to withstand landings when hucking cliffs.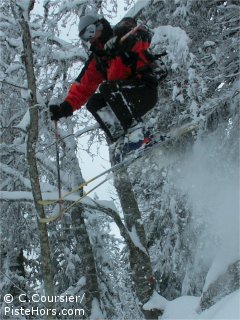 Freerando
Freerando bindings will be used for a significant amount of lift served off-piste skiing and touring and will ski brakes as standard. No messing around with straps when hopping on a cable car or gondola lift. Straps also present a danger in avalanches and in falls where the ski can hit the skier. However skiers should consider powder ribbons? when skiing deep powder to make sure that released skis can be found. Although not primarily aimed at long tours a freerando binding should switch easily from ski to tour mode and present no problems hiking an hour or two from the top of lifts.
Freerando Bindings
<< Freerando Skis | Freerando | Freerando Boots >>
---