Gear > Ski > Freerando > Freerando Bindings > Naxo Nx01
The Naxo binding is engineered by two of the design team that worked on the Fritschi Diamir Titanal II binding. It is possibly the binding that most closely resembles a piste binding. At some 2300 grams with brakes it will see most use as an off-piste rather than pure randonnée binding. The concept is very similar to the Skalp 8007? but updated to overcome some of the problems associated with that binding.

Naxo Nx01
The Naxo features multiple pivot points at the front of the foot which are said to give a climbing action closer to walking so reducing fatigue. The binding is made of advanced materials to save weight, although not enough for extensive climbing use in our opinion. Like the Diamir Freeride the DIN settings go to 12, useful for extreme descents, jumps and heavier skiers. It has front and rear boot release. Naturally brakes and harscheisen (crampons) are available. Street price is around 260 €. The Naxo can be adjusted for different boot lengths in the field without tools which will also make it a favourite with backcountry hire shops. Although new to the French and North American markets Naxo sold 500 units last season. There were some problems with breakages and with ice build-up under the toe-piece when climbing and this binding includes a number of redesigns.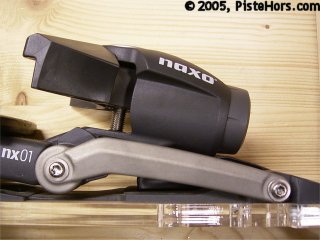 Naxo pivot bar and toe piece
We took a closer look at this binding recently and it was instructive. First of all the weights bandied about by manufacturers, reviewers and shops seem to differ from reality. The Naxo with brakes was about the same weight as the Fritschi Freeride. We were also impressed by the quality of the construction. Given the lower cost a of the Naxo we feel this binding is a better choice, as long as the first year gremlins have been ironed out.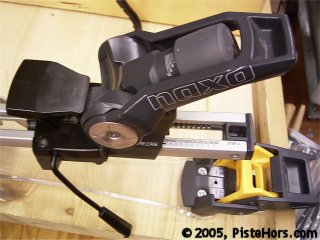 Cocking level
2005 Update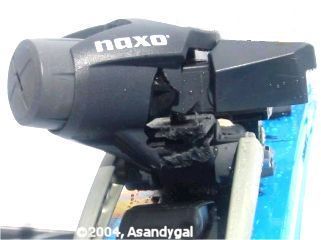 Naxo Nx01 Broken Toepiece
The nx01 suffered a number of problems last season with broken toe pieces, cocking levers and link bars. All these areas have undergone revisions for 2005.
The nX01 has been discontinued for the 2006/7 season.
<< | Freerando Bindings | Naxo nx02 >>
---