Gear > Ski > Freerando > Freerando Bindings > Marker Duke
Marker have re-entered the touring binding market with a heavyweight - the Duke. As beefy its namesake John "Duke" Wayne it boasts a DIN 16 release (that's 4 more DINs than the Fritschi Diamir Freeride Plus or Naxo nx21) so won't pop on cliff hucks or under the G forces of Mach 5 turns. The Duke shares technolgoy with Marker's alpine bindings but the unit is the fruit of two years in research and development. The heel and toe piece are linked by a solid chassis and this means the binding can be adjusted for different boot lengths. The binding integrates a ski brake. The front pivot is under the toe, not in front like the Fritschis, so should offer a good stride and be reliable. The binding is heavy, around 2.5kg for a pair, so will appeal to skiers looking for a single setup for off-piste and limited climbing. The Marker Duke has picked up the European Ski Awards best ski binding for 2007 category as wel as an ISPO Outdoor Award.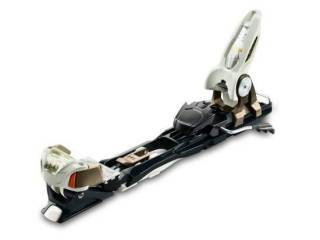 The Duke will appeal to skiers who are going to be doing very little climbing. There is currently no ski crampon and the heel raiser looks flimsy. You also have to take your boot out to lock the bindings down for ski mode.
Reviews of the Marker Duke
PisteHors's testers have been on the Duke since January and reports are postive.
"It is great for fat skis where it gives better edge control. A binding for powder not touring"
"Perfect for short treks to powder stashes. The replacement for skiers currently using Alpine Trekkers"
"Definitely the best FREERIDE binding in 07/08 season, where the MOST IMPORTANT thing is safety in higher speeds"
"Those worried about a few extra grams need to focus on not eating so much"
<< Naxo Prinzzess | Freerando Bindings | Fritschi Diamir Freeride >>
---