Avalanches > Search and Rescue > Ski Resort Security
The PIDA
Safety within the ski domain is specifically the responsibility of the local Mayor and his experts. The Mayor must ensure that natural obstacles such as rocks and cliffs are signposted and if necessary secured with nets, dangerous pistes are closed etc. He is also responsible if there is an avalanche within the domain. To manage this risk a plan is drawn up by the director of the station and the head of piste security, this is the Plan d'Intervention pour le Déclenchement des Avalanches or PIDA. The PIDA covers all the areas at risk within the ski domain. The risk is evaluated based on local knowledge in conjunction with the prevailing snow and weather conditions.
The PIDA is then approved by the Préfet who represents the French State in a department. The PIDA consists of a map and a document that describes the exact role of each member of the piste security team during the artificial release of avalanches for the current ski season.
The artificial release of avalanches is not without risks and can damage pistes and the ski installations and potentially buildings within the resort. During the winter of 1999 the army was used in Switzerland to help avalanche clearance and managed to damage a number of farm buildings and chalets.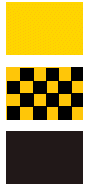 avalanche warning flags
The resort will signal the avalanche risk using flags. These are usually located at the top of major ski lifts. Yellow signifies a risk of 1-2, chequered 3-4 and black a risk of 5, the highest level.
Dangerous slopes will also be bounded by ropes and pistes themselves are generally signalled by the use of posts, usually with the piste name, difficulty and a countdown marker. This information is useful if there is an accident.
Avalanche Clearance Methods
Search and Rescue Exercises
Before the start of the season the security services will organize a variety of exercises and even safety awareness courses for the resort workers. As a minimum the station will carry out a practice avalanche rescue and probe search close to the pistes as well as an evacuation of a cable car (if present in the resort) and chair lift. Cable car evacuation involves lowering rescuers onto the roof of the cable car from a helicopter. They can climb into the car through a hatch and set up an abseil to lower skiers from the car to the pistes through a hatch in the cable car floor.
<< Learning Lessons from Avalanche Accidents | Search and Rescue | Vincendon and Henry >>