<< | Ski Resort Security | Helicopter >>
The pisteurs ski above the avalanche starting zone and throw a dynamite charge of around 2.5kg. This is a dangerous operation as it involves the direct handling of lit explosives and the pisteurs may themselves get caught in the avalanche. To limit the risks there are always two pisteurs who are themselves watched by another team located at some distance who are ready to provide help as rapidly as possible. Even in modern, well equipped stations such as Val d'Isère this method is still employed.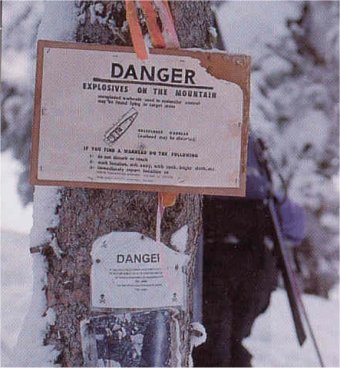 More rarely, ski cutting is also used. This consists of a pisteur traversing a slope at a certain angle and speed on skis, this is often enough to weaken the bonds between snow layers starting a slide. Needless to say it requires a lot of skill. Jean Cattelin? and Emile Allais recall the work in the early days of Courchevel.
[JC]An avalanche has many anchor points amongst which those at the top. We cut those at the top with skis, the risk was to get caught in the slide. You need to cut at the right height and the avalanche needed to be ready to slide. The problem was when you were too low, if the slope went you were caught, I think we all got caught once or twice. They tell you all sorts of stuff about avalanches, that you have to swim for example, I was caught 3 times during piste control and was never able to do anything. Once, on the Saulire, I was caught by a small slide and turned to Xavier Creton? who was watching to say "look I'm having fun". Then I saw the whole slope go just in front of him and I said to myself "darn, now you are really screwed". I was 24 minutes under the snow before I was found.
[EA]I told the other pisteurs, "you go and control that couloir, I'll do the other side". I was sheltering under a rock when the whole bowl went, there was a lot of rumbling, at first I swam, it was a reflex but then I waited for the slide to stop. When it stopped I didn't struggle in order to survive as long as possible under the snow, what else could I do?
[JC]I had seen it all from the summit of the Saulire, it still scares me to talk about it, it was a white tsunami, Marcel Charvin had seen it all with his binculars and half an hour later it was he who found Emile with a probe on his first try. He was under two or three meters of snow. I knew that we couldn't keep taking these kinds of risks and we had to find a better way of controlling slopes.
References
L'Epopee de Courchevel; Gildas Leprêtre