Ski-Areas > Northern Alps > Savoie (73) > Maurienne > Saint-Colomban des Villards
Contents
Description
In principle there is little of note about St Colomban des Villards. Two hotels, a post office and a few houses. Even the local grocers has shut-up shop. A notice on the door reads: Closed for good, in retirement. The average age of the customers in the Bar du Glandon must be over 60. A stray dog sniffs around the touring skis propped up outside. Once in a while a car cuts through the low cloud on its way to someplace else.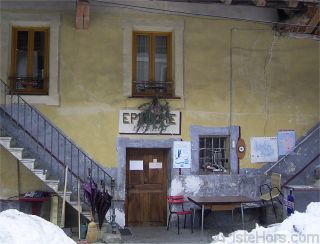 The Old Grocers
But St Colomban's has secret weapon in the fight against decline. It is called The Bellard and it is a chairlift that links this tiny Maurienne resort into the les Sybelles ski area. With 310km of linked pistes it is one of the largest link ski domains in France. And you've probably never heard of it?
Saint-Colomban des Villards sits on north facing slopes of the Maurienne valley below the Glandon road pass. The lift served area extends from 1150 metres to 2300 metres. There are 25 km of lift served runs in resort excluding the linked areas.
History
Add a history of the resort here
Travel
Nearest Airport(s): Chambéry Aix-les Bains (110km), Turin (125km via Fréjus Tunnel), Grenoble St Geoirs (150km),
Road: A43 from Chambéry, exit 26 then D.927 direction Col du Glandon
Rail: Paris - St Jean de Maurienne TGV neige. Bus transfer service on Saturdays (20 minutes) or taxi.
Accomodation
Hote du Glandon
The Hotel du Glandon has rooms and a couple of self catered chalets.
Les Gites de Daphnée
Gite la Pierre - Gite d'Etape with 15 beds in 3 rooms
14-18 euros / night + tax depending on the time of year.
Chantal BERTHIER
Tel: 04 79 59 37 62
06 77 34 93 59 (mobile)
http://lesgitesdedaphnee.free.fr/
Restaurants and Bars
Hotel du Glandon bar is a meeting place for ski tourers. There is also a bar/tobacconists at the south end of town.
Guides and Instructors
Only include guides and instructors who cater for off-piste or backcountry. Please specify whether they take snowboarders.
Useful Information
http://www.saint-colomban.com/
email: info@saint-colomban.com
Cartoguides provide a details ski touring map for the area: http://www.skiderando.fr/
Category: Ski Areas
<< Pralognan la Vanoise | Savoie | Saint-Francois Longchamp >>