Ski-Areas > Northern Alps > Savoie (73) > Maurienne > Les Karellis
Contents
Description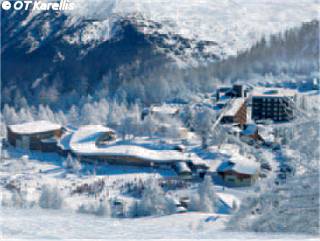 The ski resort of Les Karellis is situated in the Maurienne area of the Savoie department in the Northern Alps region. The lift served area extends from 1600 metres to 2550 metres. There is 60 km of varied lift served runs spread over 550 hectares of slopes. The resort is traffic free and features ski-in ski-out convenience to the 7 villages at the foot of the slopes. There is limited snowmaking. The resort is traffic free. The slopes are oriented to the north and north-east and generally have the some of the best snow cover in the Maurienne valley. The skiing would suit intermediate to advanced intermediate skiers with attractive tree lined skiing lower down, wide open runs higher up. The Loix green run is an a long and interesting beginner slope. There are 30 km of cross country trails and snowshoeing include an "snowshoe cross zone" to test your skills. The resort features a snowpark. The off piste skiing is some of the best in the valley.
News
The resort scored a publicity coup in the winter of 2006 when it installed France's first heated high speed chair lift.
History
Keeping the red flag flying
Not the avalanche warning flag but that of socialists like Leo Lagrange. Les Karellis celebrated its 30th anniversary over Christmas 2005. The vision of the founder Pierre Lainé was to link the communities that owned the slopes with tourist associations to provide a ski resort with a social and cultural aspect as well as aiding the local economy. Lainé's aim was to provide "winter sports holidays to families of even quite modest means". He felt that the existing development model in French ski resorts didn't provide a balanced or durable economy for the local communities, "the success of les Karellis shows that it was possible to take a different route from that of ultra-liberalism that dominates in most tourist destinations". The ski resort is situated in the Montricher-Albanne community and is run as kind of cooperative venture with its partners. Holiday makers are offered all inclusive packages which include accomodation, lift pass and other entertainments. Continuing the social them tarifs are based on family revenue.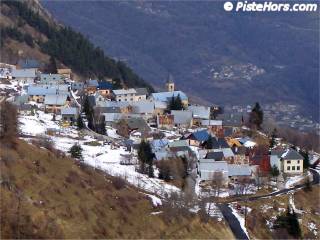 Albanne is a traditional Maurienne village
Over a million and a half people have holidayed in the resort in the past three decades creating 250 permenant jobs and 550 seasonal jobs.
Travel
Nearest Airports: Lyon Saint Exupéry 2h30, Chambéry 1h30, Grenoble St-Geoirs 2h, Turin 2h
Road: A6 from Paris -> A43 -> Chambéry -> Saint Jean-de-Maurienne -> exit 27 then CD81to Montricher-Albanne/Les Karellis. Turin A43 via Frejus tunnel.
Rail: TGV (high speed rail link) from Paris to St Jean-de-Maurienne (4 hours) then bus transfer
Accomodation
You can include a short description of any accomodation along with a link.
Restaurants and Bars
Tell readers about any good restaurants and bars in the resort
Shopping
We don't all ski 24/7, if there are shops: ski, fashion or bookstores you think people should know about mention them here.
Guides and Instructors
Only include guides and instructors who cater for off-piste or backcountry. Please specify whether they take snowboarders.
Useful Information
email: info@karellis.com
Category: Ski Areas
<< Les Bottières | Savoie | Les Menuires >>