Ski-Areas > Northern Alps > Savoie (73) > Vanoise > Courchevel > Courchevel Off Piste > Couloirs
The Saulire
The Saulire is reached from Courchevel 1850 by the Verdons gondola then the large Saulire cable car. From the exit of the cable car turn right onto a large flat area of snow. There are four possible descents. Back into the Courchevel ski domain there are three couloirs listed on the piste plan and clearly visible as you ride up the Cable Car. Sous le Télépherique and Emile Allais are marked as red itinerary runs, effectively secure off-piste skiing. The Grand Couloir is a black and reached via a narrow path, you should probably attempt this first before the itineraries although the traverse can be daunting. You can also climb to the Croix du Verdon to ski the large steep couloir of the same name. You end up in the small valley of the Rocher de l'Ombre.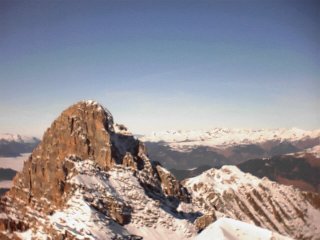 Croix du Verdon from the Saulire
Finally the Couloir Tournier is directly in front and takes you down towards Méribel Mottaret. This is quite steep and narrow and in poor conditions there are hidden rocks just under the snow, these factors can make turns difficult.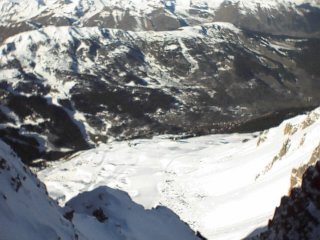 Couloir Tournier and the Mottaret pistes below
Vizille Peak
If you are up early after snow you can find fresh powder on the former piste-L, now an off piste between l'épaule de La Vizelle and the Piste M. If you've had a lie-in take the combe de la Saulire, keep to the left then cross under the Croix des Verdons to pass between a gap to the left of the Rocher de l'Ombre, you can descend to rejoin the Stade piste.
A right turn at the junction of the M and l'épaule de la Vizelle takes you to a wall that is very prone to avalanches. At the bottom of the wall there is a flattish section beneath the Suisses chair lift at the end there is another steep section with two couloirs located directly beneath the lift, afterwards you can link with the Mur piste which often closed after snowfall.
<< Courchevel Off Piste | Courchevel | Col du Fruit >>