Ski-Areas > Massif Central > Puy de Dôme (63) > Monts D'Auvergne > Le Mont-Dore
Contents
Description
The ski resort of Le Mont-Dore is situated in the Monts d'Auvergne area of the Puy de Dôme department and is part of the Mont Dore - Super Besse ski domain. The resort features 15 green pistes, 9 blues and 7 reds but no blacks. The lift served area extends from 1350 metres to 1850 metres. There are a total of 87 km of lift served runs. All in all it doesn't sound like somewhere that would interest off piste skiers. But of all the resorts we've skied it would probably rate fourth after la Grave, Chamonix Mont-Blanc and Barèges for direct lift served couloir skiing. You will find greater vertical and longer, more sustained and exposed pitches on the north face of the la Plagne Bellecôte massif. But with a good 2 hours climb on skins to access some of them, and, before the Vanoise Express linked the la Plagne ski domain with that of les Arcs, these were strictly for the adventurous. At le Mont Dore everything is within easy reach of the lifts but the lack of finance, or will, has left much of the terrain unexploited. The resort doesn't exactly encourage our kind of skier but it doesn't make a secret of the off-piste skiing either and there is a distinctly more relaxed attitude than displayed by the mayors of say Les Sept Laux or Barèges. The couloirs have recently become fashionable through an number of articles in Montagnes Magazine and Skieur and the book by ski journalist Eric Delaperrière.
Because a lot of what we skied is so easy to access I want to make the point that just because we judged some route safe on a given day doesn't mean it will be so when you get here. Le Mont Dore may not be known as an extreme ski Mecca but many of the routes we skied are very steep and dangerous. The prevailing westerly winds can form large cornices and wind slabs, especially on slopes with an East or North-East exposure. A few years ago a snowboarder was killed by a large avalanche in the Coulée des Cabines. As a rescue worker from nearby Murat told PisteHors after assisting at a deadly avalanche in the area,"The Massif Central may be thought of as mountains fit for cows, but here our cows share their genes with mountain goats". In the winter you may need crampons, rope and ice axe just to access some of the routes and in any case your group should always carry Avalanche Transceivers, Probes and Shovels and know how to use them.
The Puy de Sancy is one of nature's gifts to skiers. From around 1 million to 250,000 thousand years ago an enormous stratovolcano sprayed fountains of molten rock into the air through numerous fissures in the earth's crust Over the eons a huge mountain of basalt was constructed. The last eruptions in the region occurred some 10,000 years ago. While the surrounding peaks have a characteristic cone shape, the Sancy Massive has been eroded into a chaos of small, steep valleys, spiky needles, bowls and couloirs. Down in the town the hot springs, known since Roman times, still bubble up to attract tourists. The rugged nature of the mountain is witnessed by the place names: the val d'enfer (Hell's Valley) and les dents du diable (The Devil's Teeth). These alone should be enough to frighten potential skiers venturing into the Sancy backcountry.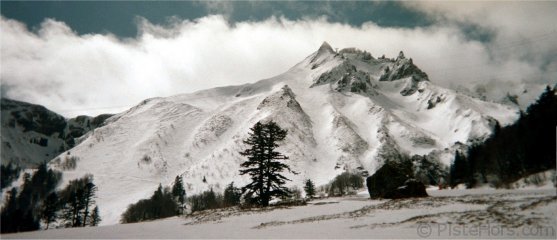 General View of the Le Mont Dore couloirs
Travel
Nearest Airport(s): Clermont-Ferrand
Road: A71 then A75 from Paris. Take the Mont Dore exit. There is about 20km of fast road followed by narrower roads to le Mont Dore.
Rail: Main Line Railway Station at Le Mont Dore with direct trains to Paris
Accomodation
Le Mont Dore is full of reasonably priced Belle Epoque style hotes. Some are not in the first flush of youth.
Restaurants and Bars
There are a number of excellent restaurants and bars, local specialities are Cheese, Auvergne wines and Truffade. Things get particuarly animated during the Jazz week.
Shopping
We don't all ski 24/7, if there are shops: ski, fashion or bookstores you think people should know about mention them here.
Guides and Instructors
Contact Jean Marc Vigier, instructor and fan of the Mont Dore couloirs who helped check the accuracy of this article.
Useful Information
Web:
http://www.mont-dore.com/
http://www.auvergne-neige.info/
Tourist Office: 04 73 65 20 21 Town Hall: 04 73 65 20 00
Amar Andalkar'sRing of Fire web pages discusses volcanic skiing including information on Mont Dore
Christain Nicollet, a university professor in nearby Clermont Ferrand has put together some excellent information for ski tourers in the Sancy range.
The November, 2004 edition of Montagnes Magazine (no.287) has a very well researched article on the Mont-Dore Couloirs entitled: Bruit de couloir au Mont-Dore We were very pleased that they referenced PisteHors.com
The book Ski de randonnée : Des premières traces aux grands raids by Eric Delaperrière describes the Puy Ferrand couloirs.
Amazon-FR:2723452255
Yannick Michelat describes some of the climbing routes on the Sancy
Most couloirs and steeps of the Sancy range are featured on Sancy Free including a Google Map
Respect copyright. Contributions must be your own work and not copied from other web pages or elsewhere.
Category: Ski Areas
< Le Guéry | Puy de Dôme | Super-Besse >>