Ski Areas > Northern Alps > Belledonne > Glandon > Col de la Croix east face
A ski trip to the Belledonne at the start of October didn't seem very promising but a year before it had snowed at around the same time and the skiing to the Ouillon in the les Sybelles ski area had been good. The Ouillon is a grassy peak and doesn't need a base, just a good 50cm of fresh snow, to be skiable.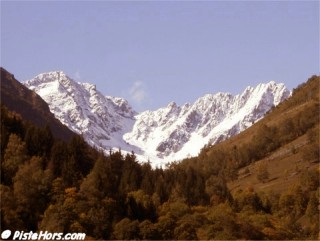 Combe du Tepey in Autumn
The drive up to the Glandon had been stunning. I really appreciate the contrast between warm autumn colours in the valley and snowy peaks. However at the pass there was no snow. The storm had hit the Belledonne but had petered out before penetrating further east. Ice on the Etendard glistened in the sunlight. I had brought my skis and had noticed that there was some snow in the Combe de la Croix. This was a reasonably flat traverse from the Glandon on a muddy path. The skiable snow actually began at 2150 meters at the Plan des Trois Eaux. Keeping to the left (south bank) meant that the snow that had sloughed off the high sided valley had built up a reasonbly depth. The route climbs a short north-east pitch to the lac de la Croix, still ice free in the warm autumn air and then up to the col.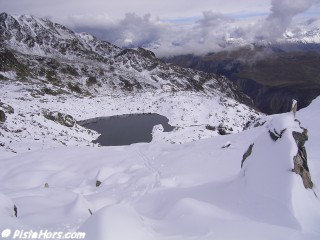 Lac de la Croix from the col
Looking around there wasn't much in the way of snow. The Combe Madame with its micro-glacier was snow filled but the summits of the Rochers Badon Blanc were bare rocks. With just 300 meters of skiing over a total of 600 it is debatable whether this was a ski tour or a walk with skis. Later in the year, when the col du Glandon is closed due to snow, it is preferable to start from Sous le Col d'en haut at 1766 meters.
Route Card
GPS: N:45.15477° E:6.08342°, 2529meters
Orientation: East
Toponeige Rating: Danger: 1, Climb: F+, Ski: 1.3
Date Skied: 4 October 2005
Google-Earth:Rocher-Blanc
<< Tour of the Rochers de Buyant | Glandon | Crêtes de la Marmottane Tour >>