Fritschi torques up the Freeride

Fritschi's Diamir Titanal range were the original easy to use ski touring bindings. Despite a number of revisions aimed at reliability the Swiss firm has faced strong competition on two fronts: Naxo and Silvretta.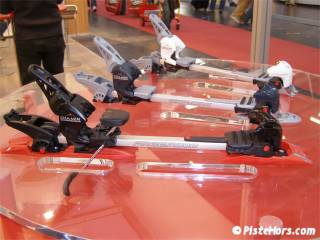 The new Fritschi binding line-up
Part of the original Titanal team left Fritschi to form Naxo which launched the nx01 in 2001. This binding offered "alpine" looks and an improved climbing action although this came with a slight weight penalty. Silvretta aimed at the lightweight end of the market with the Pure while keeping relatively conservative looks.
Off-piste skiers looking for a robust touring binding also noticed that, despite the marketing blurb, little really separated the Explore – aimed at hardcore ski tourers from the Freeride. However early problems with reliability with the Naxo nx01 and the Silvretta Pure gave Fritschi some breathing space.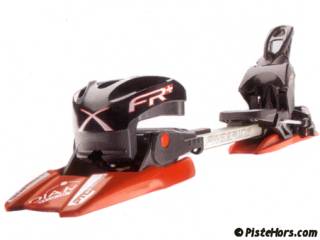 Diamire Freeride Plus Binding
For 2006/7 Fritschi have clearly rethought the line up. Particularly impressive is the all new Diamir Freeride Plus which comes in a mean looking black and red colour scheme. The emphasis with this binding is on lateral stability, a bugbear with touring bindings. The Freeride plus reduces play to a minimum by improving the front hinge design and securing the heel in what is dubbed the Power Transmission Control (PTC) plate. However the ski can still flex naturally thanks to a link bar that can slide in the PTC plate and a sprung end cap.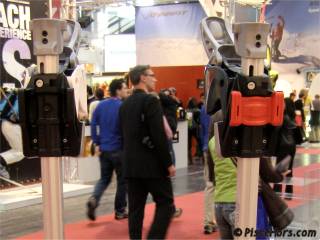 Explore and Freeride Plus heels
Stefan Ibach of Diamir says that the Freeride Plus achieves alpine binding performance and release security. He states that it offers an effective DIN 12 and the binding can be cranked up and down from this setting without the springs losing power claiming that no other current touring binding can do this. We asked whether the binding could be used for cliff hucks. Ibach says it will withstand reasonable punishment but not the kind of treatment that pro freeriders dish out. However all the parts carry a 24 month reasonable use guarantee and Fritschi will extend this under some circumstances. The Diamir Freeride Plus won the best binding category of the 2006 European Ski Awards.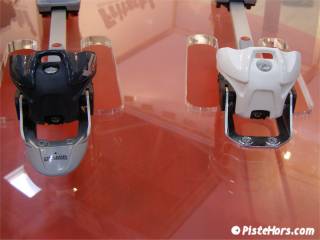 Explore vs. Experience
The Explore remains in the Fritschi stable but it is joined by the Experience. This is a less expensive version of the Explore but rather than cut corners on quality the binding simply uses less-expensive but heavier materials adding around 100g to the Explore's weight.

Posted by
davidof
on Friday, 03 March, 2006 at 10:52 PM
Comments are now closed