Gear > Ski > Ski Touring > Touring Bindings > Fritschi Diamir Explore
The Diamir Explore replaces the Titanal III, the binding is not a huge change. Fritschi understand that reliability is important in the backcountry. The toe platform has been redesigned and widened offering better release for Vibram soled touring boots and more effective energy transfer. The heelpiece and brake are also lighter and said to be easier to operate. The binding is also some 4mm higher than the TIII giving more leverage.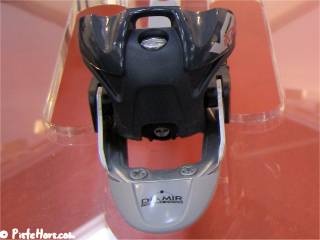 Diamire Explore Toe Piece
The binding is supplied with a stop strap, which attaches using Velcro. We found this more practical and safer in the event of an avalanche than plastic clips
Manufacturer Fritschi
Weight 1800 grams
Ski Brakes 170 grams
(:bc http://pistehors.com/ski-shop/gear/P-1_3_27_BLD0927/Explore-Binding.html :) (:fw http://www.myreferer.com/cgi/?MERCHANT=facewest.co.uk&ID=pistehors&LINK=837573 :)
Reviews
If you've tried the Fritschi Diamir Explore write up your experiences here.
<< Fritschi Diamir Experience | Touring Bindings | Fritschi Diamir Express >>
---