Gear > Ski > Ski Touring > Touring Bindings > Silvretta Pure
The German firm of Silvretta has reacted to Fritschi's increasing dominance in the backcountry freeride market with a binding called 'Pure'.
Like its cousin the Easy Go 555 the toe piece is fixed, release and DIN adjustment is through the heel unit. The heel can release vertically or can slide backwards on the two link bars which frees the toe, a very ingenious solution. Like the Naxo nx01 the binding uses high quality materials such as carbon fibre bringing its weight down to a very interesting 1200 grams without brakes. Learning from Fritschi problem's with the Fritschi Diamir Titanal II toepieces, Silvretta has reinforced all the plastic parts with glass-fibre and they are UV stabilized for longevity. The fact that the toe does not have to move should also reduce breakages. The front pivot is also set further back compared to the Diamir which is said to give an easier climbing action, particularly for conversions. The price is 289 €.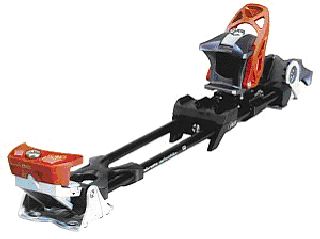 Silvretta Pure
Further information is available from: http://www.silvretta.de
2005 Update
Following problems with the toepieces and with play the 2005 Silvretta Pure binding has undergone a number of improvements.
Note
Depending on the ski construction and the individual skier you may want to use epoxy resin when mounting the bindings. The screws can be released later by directly heating with a soldering iron. If you use binding without brakes do get powder ribbons so you can find your skis if you lose them in powder. Your avalanche shovel will also come in handy for digging out missing skis!
<< Nic-Impex Evolution | Touring Bindings | Silvretta Pure Mountain? >>
---