Ski-Areas > Pyrénées > Hautes-Pyrénées (65) > Haute-Bigorre > La Mongie > Off Piste > Tourmalet Sector
We skied some piste around the Col du Tourmalet. The piste follows the road which is maybe more familiar as a summer Tour de France mountain stage. Ian described this as some of the worst skiing he had ever done, "even worse than Scotland". "or Bavaria", I joked. The snow was absolutely dire, it seemed like the stuff that comes out of machines. Hard, icy with frozen tracks and la Mongie's famous piste rocks.
From the Tourmalet, the Coume Lounque tow leads to a valley bearing the same name and a red-piste. You can ski to the Hount Barrade chair or traverse off to the left to the steep Coume de Sencours, at the exit of the Coume de Sencours keep to the right of the river and don't miss the passade de Sencours (cliffs but easy to avoid, see red triangle on map). The itinerary joins the Arizes valley and terminates 1200 meters lower at the Auberge which bears the same name.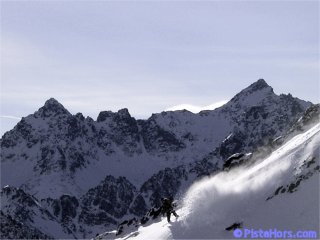 Pic des Quatre Termes
The Hount-Barrade chair takes you to the classic piste blanche, which follows the North-East facing Coume d'Estépès, and then to the pont des Vasquès and the cabanes de Tramazaygues, the cascade d'Arizes to terminate at the village of Artigues (chez Noely for crèpes is recommended). Again taxi or hitch to get back to resort. However we would have to leave this treat due to the conditions and lack of snow below 1600 meters.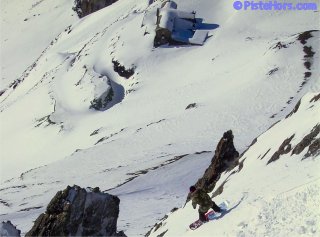 Looking down to the lac d'Oncet
A cable car from La Mongie takes you slightly higher than the Hount-Barrade to the summit of le Taoulet (2300) and to its famous north facing couloirs: la verte, la violette and la rouge and la piste jaune (this former ski piste is marked with a metal sign). Again these descend into the Coume de Sencours (see above). The cable car to the Pic du Midi is for the private use of the observatory. When there is sufficient snow it is also possible to return to La Mongie following the slope directly south (Taoulet Sud Direct).
<< Pas de la Crabe | La Mongie | Barèges Off Piste >>