Ski-Areas > Pyrénées > Hautes-Pyrénées (65) > Haute-Bigorre > Bareges > Off Piste
After skiing the Pas de la Crabe from la Mongie we arrived in the parking de Tournaboup on the Barèges side of the col du Tourmalet. From here the road to the col is closed and snow covered. From the top of the Caoubère chair it is possible to turn right follow the Pale de Gaubie, a large north west facing slope that leads to the base of the chair. Take great care in this sector as it can be prone to avalanches, a group of snowboarders were hit by a slide in 2005 and just a week earlier a young man was killed by an avalanche in the same spot.
The spa of Barèges is far prettier than La Mongie it is less interesting from an off-piste point of view. If the snow is excellent there are some routes through the forest from the Ayré funicular railway1. You can descend directly to the station or traverse to the west to pass the Artiginette cabins then north to join the road between Barèges and Sers.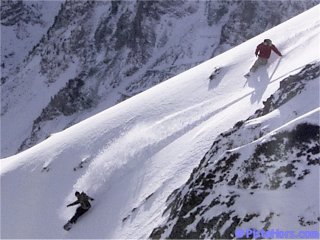 There are a number of ski touring possibilities in the resort, the Crete de la Pegue can be reached from Super Barèges as can the Pic du Midi (2872m). The Pene Negre (2554m) is accessed from la Mongie through a large valley, you can even take a short tow to save a bit of climbing. The Arizes valley offers the possibility of climbing to the Col d'Aouet (2184m) and la Montagnette. Finally it is possible to climb over to the pistes of Saint Lary Soulan from the refuge de Campana.
As ever make sure you have a good map and speak to the piste security to find out about the snow conditions, particularly in the Campan and Arizes valleys which are not visible from the resort. Make sure you've noted the local piste security and gendarmerie numbers in case of accidents. Make sure your group is equipped with avalanche transceivers, probes and shovels.
See Also
1: The funicular has been closed for some time and is scheduled to be replaced by a Gondola. However this means there is no direct lift access directly from Barèges. Access is by car or ski bus which can cause problems in heavy snow when the road can close.
<< | Barèges | >>