Contents
Introduction
Ski touring (sometimes called ski de randonnée, ski mountaineering, and AT [alpine touring] or variants) uses special ski equipment that enables the user to climb then descend slopes without the aid of ski lifts. The principal differences are a binding with a freeheel for climbing and skins that attach to the base of skis. The free heel makes for fluid, walking like movements when climbing or traversing flat slopes. The skin, usually made of Mohair or Nylon or a mix of the two grips the snow and prevents the ski from sliding backwards. Climbing on skins is usually referred to as skinning. Slopes of up to 25 degrees can be climbed directly. Steeper slopes, up to 35 degrees, can be climbed in a series of traverses linked by kick-turns or conversions. Beyond 35 degrees it is often easier to strap skis to a special touring rucksack and climb on foot, perhaps with crampons.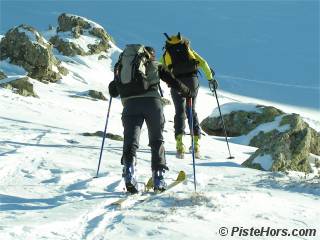 Ski Touring in the Belledonne
Climbing steep, icy slopes usually requires ski crampons (also known as harscheisen or couteaux from the German and French words). Made of sheet steel or aluminium these have a sawtooth pattern which grips the slope and are attached to the binding or directly to ski. Once the objective, summit, mountain pass or ridge, is reached skins are removed and stowed in a rucksack and the heel is locked down (except for telemark where the heel remains free). The skier descends much as he would on a ski resort.
Ski tourers face dangers from avalanches, crevasse falls on glaciated or pot-holed terrain and falls on icy slopes. Typically each member of the group will carry avalanche search and recovery equipment including an avalanche transceiver, snow shovel and probe. On glaciated terrain each member of the group will wear a climbing harness and will usually be roped together for climbing and possibly for parts of the descent.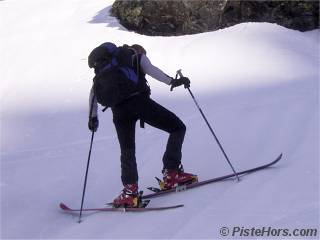 Conversion turn with ski crampons
Pure touring skis typically weigh less than 2.5 kg (5.5 lbs) for a pair. Bindings range from 600 grammes (1.3 lbs) to 1.8 kg (4lbs) per pair. Touring skis are durable to cope with a range of conditions. They often feature a small hole at the spatula which can be used to construct a stretcher although with the spread of mobile phones and mountain rescue services this is not so essential nowadays. Touring skis sacrifice downhill performance and the lightest may require considerable skill on behalf of the user. Skis for powder use will usually be wider and shaped to aid flotation and turn initiation. Extreme skiers may use straighter, stiffer skis which give better grip in icy conditions. Skis are shorter than those used for downhill.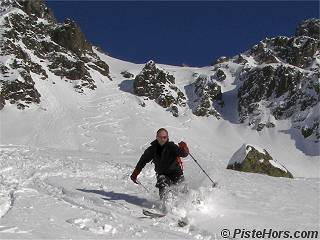 Col de l'Aigleton, early December
Touring boots weigh from around 2.5 to 4 kg (5.5lbs to 7.5lbs). They are shorter than downhill boots and will feature a profiled rubber climbing sole (Vibram). They are more flexible than downhill boots which gives less control, especially at speed, in difficult snow or on steep terrain.
---