Gear > Ski > Ski Touring > Touring Boots > Scarpa Spirit 4
This is essentially a very slightly stiffer four buckle version of the Scarpa Spirit 3. The shell uses a slightly denser Pebax plastic to increase stiffness. The extra buckle should give better foot hold for more agressive skiing but adds noticeably to the weight, a claimed 3750grams in size 27 (42) even with the PlusFit® TT thermo liner. With the Cordura® inner boot, as you will get in a hire shop, the boot is a pretty lardy 4400 grams. Except for extremely demanding skiers this could be a case of more being less. Apart from the excellent Skywalk Active sole and Dynafit options freeriders may be better served by a boot such as the Scarpa Tornado or Garmont Adrenalin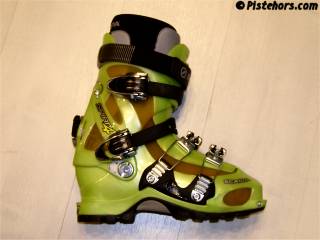 The Spirit 4 replaces the much loved Denali TT in the Scarpa lineup, something that will not please everyone. It does add the option of using lightweight Dynafit bindings. We have found the dual injected shells of the Spirit range to give excellent ski performance. They are quite tall and stiff, especially if the tongue is replaced with the stiff "Ski" tongue from a Tornado boot (ask you dealer about this before purchase). The shell is a kind of exoskeleton arrangement. Stiff plastic "ribs" give strength and support where needed the rest is filled with somewhat squishy pink "flesh". We have found the comfort when walking to be excellent.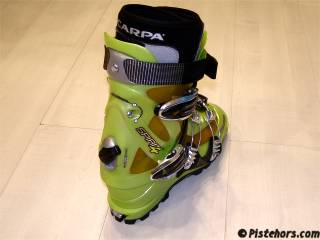 The clips work well although we found the heel retention strap a bit short and it would sometimes release when walking. It offers both canting and forward lean adjustments. It can be cranked forward from 19° to 23° degrees and when locked into downhill mode the flex is stiff… for a touring boot.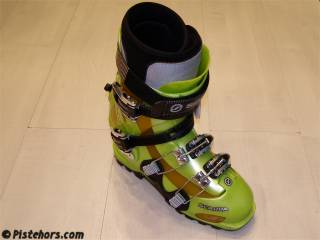 The Spirit shells have slightly less volume than the Scarpa Matrix but fit a medium to wide foot. We suggest going for a boot the same size as your street shoe size, the inner boot should be a good fit but your toes should not be constricted. As with all ski boots see a specialist boot fitter with a good range and skilled in the art.
2007/8 Update
The crappy Plusfit liners are being improved for the 2007-8 season and will also feature a "hut sole" so you can tromp around in them without them falling apart even faster than the old Pussfit booties. Hopefully they'll make more than 50K meters. The new liners have a much harder wearing covering material - it is actually quite rough to touch but okay with socks. The advantage is the liners grip your socks like velcro so there is less movement.
<< Scarpa Spirit 3 | Touring Boots | Scarpa Venus >>
---