Gear > Ski > Freerando > Freerando Boots > Garmont Adrenalin
The Garmont Adrenalin is one of the innovations for the 2005 season. Its is aimed squarely at the backcountry freeride market. There are no Dynafit inserts because the boot is designed purely for step-in bindings - either randonnée such as a Fritschi Diamir Freeride or Naxo nx21 or standard alpine bindings. Normally using Alpine bindings with ski mountaineering boots is a big no-no as the release cannot be guaranteed due to the friction of the rubber climbing sole. Randonnée bindings overcome this by adding slider plates. The Adrenalin takes a different route and features interchangeable soles - grippy rubber for the backcountry and standard plastic DIN soles for your piste skis. The sole is held by 10 cross-head screws so this isn't an operation you are likely to do on the slopes.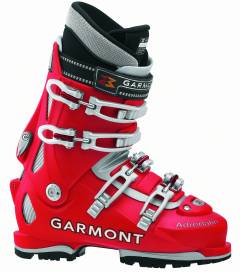 Garmont Adrenalin
The Garmont Adrenalin is a tall, stiff boot thanks to the Pebax® shell reinforced with carbon fibre at stress points. The boot has four micro-adjustable clips in aluminium in mirrored pairs for maximum foot retention. The catches can also be placed in three positions to adjust for different calf sizes. The double injected tongue has a progressive flex but also disperses buckle pressure. The toe box has more room for the big toe to relieve pressure on the foot. All this gives a boot capable of driving the current generation of big mountain skis.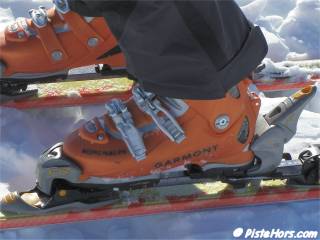 The boot features a ski/walk position and the upper clips pivot for easier climbing. Of course all this comes at a cost, a pair of boots weighs a fairly hefty 3770 grams with the thermoformable G-Fit liner or 4180 grams with the Pad-lock liner (suitable for hire shops). This is definitely a boot aimed at freeriders who want to climb to off-piste routes from the top of lifts. We could see this as the ideal tool for the couloirs on the north face of the Bellecôte, or free-riding at la Grave. The boots don't feel particularly heavy. Even without thermoforming the liner felt snug and comfortable, the new shell does provide more room compared to the Mega-Ride. The boot is more flexible than a top off the range Alpine boot but less flappy than the Garmont Mega Ride G-Fit. Definitely worth considering if you prioritize performance over weight and want a single boot you can safely use on downhill and touring rigs.
Sizes: 39.5 - 47
Manufacturer: Garmont
<< Dynafit ZZero4 PX-TF Women? | Freerando Boots | Garmont Astral >>
---