Gear > Ski > Freerando > Freerando Boots > Scarpa Tornado
The Tornado has been developed to satisfy the needs of backcountry skiers looking for a boot that approaches the performance of alpine ski boots. The boot is aimed firmly at the lift served off-piste camp. Riders who may be prepared to climb to reach that special run.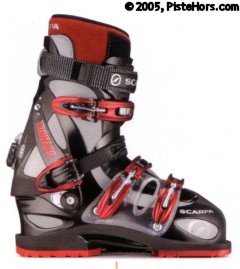 Scarpa Tornado
It has an aggressive black, silver and red colour scheme and is manufactured in a mix of lightweight but durable dual-injected Pebax plastic and Polyurethane. This means that the boot can be stiff where it is needed but save weight elsewhere. It is a four buckle design, with two micro-adjustable aluminum buckles and a heel retention buckle. There is also a velcro powerstrap and spoiler. The boot can be adjusted for canting between 17° and 25° The boot is a fairly heavy 4300 grams with a traditional nylon inner boot but this is reduced to an acceptable 3500 grams with Plusfit High TT Thermo inner (size 27 - UK 42).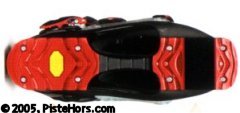 Scarpa Tornado sole
The biggest advance for this boot is the cunning Ride Scarpa/Vibram sole. This works in standard touring bindings and alpine downhill bindings. Normal Vibram soled touring boots may not release properly in downhill bindings. This puts the boot in direct competition with the Garmont Adrenalin but with a saving of some 200 grams weight. It remains to be seen how durable and practical this sole is for extended touring use - but that is not really the point.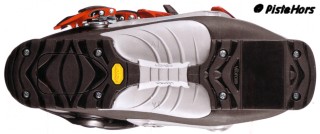 2007 Sole
For 2007 the Sole has been updated slightly. The Ride sole complies with ISO Alpine and UNI Standards. The sole has rubber inserts under the toe and at the heel which grip on all surfaces but the boot will still release in Alpine bindings.
Manufacturer: Scarpa
Boots are available in 24.5 to 31 Mondo sizes.
<< Garmont Xena | Freerando Boots | Scarpa Tornado Eco >>
---