Gear > Ski > Ski Touring > Touring Boots > Dynafit Zzero4 C-MF/C-TF
The Zzero4 C-MF and C-TF are the top of the Dynafit 2008 boot range. TF stands for thermo-fit and MF for the traditional and slightly heavier "multiform" laced liner. The Zzero C-MF is a high four buckle boot aimed at the softer end of the Freerando market. The pre-production book we reviewed tipped our scales at a shade under 1600 grammes, that's a fair bit lighter than the equivalent Scarpa Spirit 4, however it is slightly shorter than this boot. The fit was good for a medium to medium-large foot, the boot has just a bit less volume compared to the Scarpa Spirit 3
Dynafit has saved weight while retaining stiffness through the extensive use of carbon fiber, particularly the power-stringer exoskeleton that follows the line of the ankle and wraps under the heel arch. Carbon fiber does however add to costs. The tongue also features carbon fiber to distribute pressure from the skier's legs. The tongue is pleated to aid uphill climbing and the buckles open right out to a similar end. Buckes are in magnesium alloy.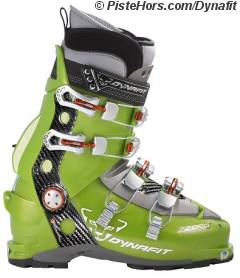 Given some of the shoddy liners we've experienced over the years we are pleased to report that the Dynafit inner boots look well made. The MF sets new standards. It tips the scales at just 100g more than the 260g thermo liner. The outer is in hard wearing Cordura and it should breath better than a thermo liner.
Dynafit claim the C-MF as the stiffest boot in its class and this certainly appears true from the samples we had. The boot is noticeably stiffer than the Garmont Mega Ride G-Fit and almost feels like an alpine boot. All that Carbon has done some good. The boots give good control over fat skis but skiers more used to softer touring boots may find they lack some progression.
Weight: 3190 g in 27.5 (our scales, thermo model)
Sizes: 25 – 30.5 mondo + half sizes
Cost: 519 € (MRP), 479 € (street price) for teh MF model
Manufacturer Dynafit
<< | Touring Boots | Dynafit Zzero4 PX-TF >>
---