Gear > Ski > Ski Touring > Touring Boots > Dynafit Zzero4 PX-TF
The Dynafit Zzero PX-TF is a less expensive and apparently softer version of the Dynafit-Zzero4-C-MF C-TF although we found it to be quite stiff. There is no (expensive) carbon fiber and the powerstringer is made out of Rilsan, a polyamide manufactured from Castor beans so it is 100% natural. The construction is identical to the C model using Pebax so retains the uphill climbing comfort. The Zzero models are built like traditional alpine touring boots with overlapping cuffs, a tongue and a rockered vibram sole with an articulated walk mode in the heel. The high quality magnesium/wire buckles also have wide catches on the calf for more flexible movement when walking. The actual shell resembles that of the Garmont Mega Ride G-Fit . We wonder if the boot's designer, Mario Sartor, took the plans with him when he left Garmont.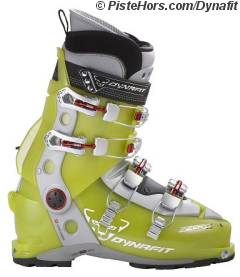 There is no compromise in weight. In 27.5 (UK size 9) we weighed a single boot at 1595 grams on our digital scale making it the lightest 4 buckle ski touring boot on the market. The boot has two forward lean angles, 15 and a more aggressive 21 degrees. The ski/walk latch is quite small in operation but switches much more easily than some we have experienced. The boots use the Quick-step-in easy entry system compatible with the lightweight Dynafit TLT binding system, there are also a couple of clear black felt tip marks on the boots to show where to align you toe to get into the bindings. The boots use the new DynaGrip sole compatible with the new ISO9523 standard.
Weight: 3190 grams / pair in 27.5
Sizes: 25 – 30.5 mondo + half sizes
Manufacturer Dynafit
Cost: 439 € MRP - 399 € (street price)
<< Dynafit Zzero4 C-MF, C-TF | Touring Boots | Dynafit Zzero4 U-MF >>
---