Avalanches > Accident Statistics > 2002-2003
They may be a clichés amongst experienced winter sports enthusiasts but avalanches have no respect for experience and nothing kills like fresh snow. However this message is still not getting through to some backcountry users in France. The 2002-2003 season got underway with considerable snowfall early in December which enabled many high altitude ski resorts to open their doors early. This snow also brought the first deaths in a particularly black weekend as ski tourists took advantage of the conditions. December was warm and wet but this was followed by a very snowy January and February in all areas of France. This period also saw a peak in avalanche accidents. In comparison with previous years the end of the season was characterised by a long period of mild, dry weather and stable snow conditions, with only a single fatal accident late in the season at La Grave, that of well respected German high mountain guide Philip Jaerschky.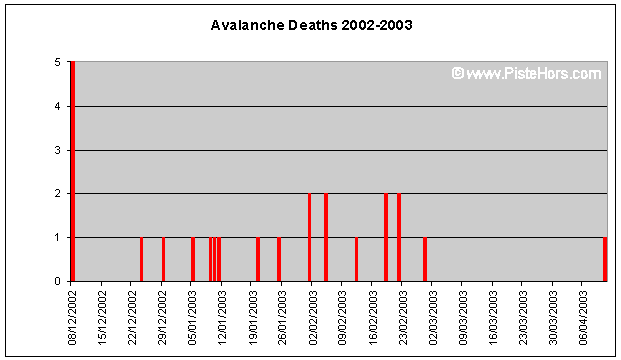 Avalanche Deaths caused by Winter Sports in France (excludes climbing)
The excellent conditions throughout France saw a democratisation in avalanche deaths normally associated with the high mountains of the Pyrenees and Northern Alps with only the Jura range being spared. There were a total of 19 deaths in Alps, 2 in the Massif Central, 2 in the Pyrenees and 1 in the Vosges. The Hautes-Alpes department in South East France was particularly badly hit with 10 avalanche deaths, at one more more than the number of fatal road traffic accidents. The Pyrenees figure was low considering the bumper snowfall in the region although two people were lucky to escape with their lives in La Mongie when a chalet and car-park were hit by an avalanche. Prefects (State Governors) had been particularly vigilant in restricting travel in the mountains during periods of high avalanche risk, a controversial move amongst people earning their living from winter sports tourism.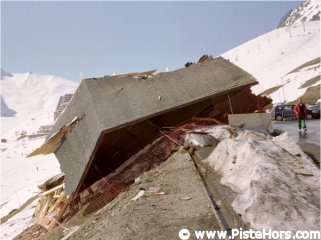 Chalet Destroyed at la Mongie
Of the 24 killed by avalanches, 14 had some experience of the backcountry, ranging from Mountain Guides to residents of ski resorts. The vast majority of victims were French. 10 of the dead were ski tourists all of whom were equipped with rescue gear including avalanche beacons, snow shovels and probes. 9 were off piste skiers, 5 of whom were skiing close to the pistes. 1 involved the increasingly popular activity of snow shoeing and there was a very rare cross-country ski fatality in the Massif-Central region.
Three of the four snowshoe deaths were related to corniche collapses with the remaining fatality attributed to a fall. Corniches are overhanging snow structures that form on ridges due to wind. They are extremely dangerous to approach.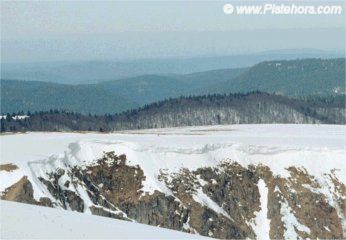 Corniches in the Vosges, March 2003
Of the none-avalanche fatalities two were due to hypothermia after the victims spent a night in the open having become disoriented. This reinforces the need to carry survival gear, food and to be familiar with the terrain and be able to navigate in all weather conditions. A skier was killed in Flaine after falling into the notorious fissures found in the off-piste sectors. The off-piste incidents highlight the dangers lurking close to the pistes and the need to consult professionals in the resort.
At least three of the fatalities involved people travelling alone. Particularly sad was the death of experienced ski tourist Jean-Pierre Etienne who died after a fall on the Corsican Haute-Route. His shepherd dog Lola remained faithfully at his side for over a week and alerted rescue workers searching the mountains.
On a happier note six snowboarders, missing on Mont Rosset opposite the La Plagne were found alive after spending 3 nights in deplorable weather conditions. Although not particularly well equipped they used their experience of the mountains to build a shelter and ration their food until help arrived. They were then promptly served with a bill for their rescue costs under a recent French law. With helicopter time running at 45 € a minute this is a sobering thought for the uninsured.
Summary of Accidents Reported to
PisteHors

for 2002-2003

The following table shows all the off-piste accidents reported to PisteHors.com in the season 2002-2003 for France (excluding climbing).
| | | | | | | | | | | | | |
| --- | --- | --- | --- | --- | --- | --- | --- | --- | --- | --- | --- | --- |
| Date | Deaths | Range | Department | Location | Experience | Activity | Cause | Remarks | Rescue | Nationality | Time | altitude |
| 08/12/02 | 4 | Alps | Hautes-Alpes | la Petite Buffe | 4 CAF | Ski Touring | Avalanche | | Transceiver | French | 11h00 | 2120 |
| 08/12/02 | 1 | Alps | Hautes-Alpes | la Quarlie | | Ski Touring | Avalanche | | Dog | French | 14h15 | 2300 |
| 24/12/02 | 1 | Alps | Haute Savoie | Vallée Blanche | Guided Group | Ski Off Piste | Avalanche | Serac Fall | Transceiver | British | | 2530 |
| 29/12/02 | 1 | Alps | Hautes Alpes | Pra Loup | | Snowboard Off Piste | Avalanche | Closed Piste/Alone | Dog | French | 13h00 | |
| 01/01/03 | 2 | Alps | Savoie | Méribel/glacier du Borgne | Local/Young | Snowshoe | Cornice Collapse | Snowboard Touring | | French | | 3042 |
| 05/01/03 | 1 | Alps | Hautes-Alpes | Arvieux-en-Queyras | local to Megève | Ski Touring | Avalanche | | Transceiver | French | 12h35 | 2700 |
| 10/01/03 | 1 | Alps | Savoie | Méribel/Cote Brune | Ski Instructor | Ski Off Piste | Avalanche | | | French | | |
| 10/01/03 | 1 | Alps | Hautes Alpes | Montgenvre | Experienced | Ski Off Piste | Avalanche | | | French | | 3000 |
| 11/01/03 | 1 | Alps | Savoie | Courchevel | | Ski Touring | Avalanche | | | | | |
| 11/01/03 | 1 | Alps | Isère | la Mure | | Cross Country | Drowning | Frozen Lake | Fire brigade | French | | |
| 13/01/03 | 1 | Alps | Isère | Les Deux Alpes | | Ski Off Piste | Collision | Collision with object | | British | | 2100 |
| 15/01/03 | 1 | Alps | Haute Savoie | Brévent | | Ski Touring | Avalanche | Disorientation | | Australian | | |
| 20/01/03 | 1 | Alps | Isère | Belledonne/Gd Colon | | Ski Touring | Avalanche | | | French | 14h30 | |
| 25/01/03 | 1 | Alps | Alpes-Haute-Provence | Chabanon | | Ski Off Piste | Avalanche | Between Pistes | | | 12h45 | 1600m |
| 25/01/03 | 1 | Alps | Savoie | la Toussuire | | Ski Off Piste | Fall | | | French | | |
| 27/01/03 | 1 | Alps | Haute-Savoie | Flaine | | Ski Off Piste | Fall | Between Pistes | | | | |
| 01/02/03 | 1 | Vosges | Vosges | Hohneck | | Snowshoe | Avalanche | Cornice Collapse | | French | 14h30 | |
| 01/02/03 | 1 | Alps | Haute-Savoie | La Clusaz | Guided Group | Ski Off Piste | Avalanche | Between Pistes | Transceiver | Swiss | 13h30 | 2400 |
| 05/02/03 | 2 | Alps | Savoie | Valmorel | Instructors | Ski Off Piste | Avalanche | Between Pistes | Dog | French | | |
| 12/02/03 | 1 | Alps | Hautes-Alpes | Ceillac | | Ski Touring | Avalanche | Transceiver Malfunction | Dog | French | 14h00 | 2400 |
| 15/02/03 | 1 | Alps | Hautes-Alpes | le Tabor | | Snowshoe | Fall | | PGHM | French | | 200m |
| 19/02/03 | 1 | Pyrenees | Haute-Pyrenees | Artigues | Snowshoe Guide | Snowshoe | Avalanche | | Transceiver | French | 12h15 | 2225 |
| 19/02/03 | 1 | Massif Central | Puy de Dome | Orcival | | Cross Country | Avalanche | | | | | |
| 22/02/03 | 1 | Alps | Isère | Les Deux Alpes | | Ski Off Piste | Avalanche | | PGHM | Italien | 17h00 | 2000 |
| 22/02/03 | 1 | Massif Central | Cantal | Brèche de Rolland | CAF guide | Snowshoe | Avalanche | | | French | 13h15 | 1647 |
| 28/02/03 | 1 | Pyrenees | Haute-Garonne | Pic de Burat | | Ski Touring | Avalanche | | | French | 11h30 | 1600 |
| 09/03/03 | 1 | Alps | Haute-Savoie | Mont Blanc/Grand Mulets | | Ski Touring | Fall | Snow Bridge Collapse | | | 13h00 | 3400 |
| 11/03/03 | 1 | Alps | Haute-Savoie | Vallée Blanche | Guided Group | Ski Off Piste | Fall | Crevasse | | | | 3000 |
| 16/03/03 | 1 | Alps | Haute-Alpes | Risoul | | Snowboard Off Piste | Hypothermia | Disorientation | | French | | |
| 20/03/03 | 1 | Alps | Hautes-Alpes | La Grave | | Ski Off Piste | Collision | Collision with Skier | | | | |
| 11/04/03 | 1 | Alps | Hautes-Alpes | La Grave | Guide | ski off piste | Avalanche | | | German | | 3000 |
| 21/04/03 | 1 | Corsica | Corsica | | Experienced | Ski Touring | Fall | Alone with Dog | PGHM/Dog | French | | |
| 09/05/03 | 1 | Alps | Hautes-Savoie | Mont Blanc/Grand Plateau | | Ski Touring | Fall | | | Bulgarian | | 4200 |
<< | Accident Statistics | French Avalanche and Off-Piste Accidents 2003 - 2004 >>