There are lots of GPS watches on the market but prices range from around 120 euros for a basic Garmin to around 300 euros for an Apple watch. The Chinese are also in on the fitness band and sports watch game with GPS enabled watches starting at around 40 euros. However most of these watches are walled gardens, you can't actually get at the GPS data for upload to popular services such as Strava and we love Strava, don't we?

That is when the Makibes BR3 (aka Dr Viva. P1C) came on my radar. It promises direct Strava integration via the phone app (Android and iPhone) and comes with a GPS. Cost is around 40 euros from Geekbuyer's european warehouse (fast delivery and no tax). Would it live up to expectations? Well partially.

The watch obviously draws some design queues from Apple's iconic watch. It is small, light and square. There are three buttons. The interface is pretty straightforward. The right button turns the watch on and off and is used to select options. The left buttons can cycle through and out of menu options. The screen is touch sensitive so you can swipe left and right and select options directly on the screen.

To start an activity you select the kind of sport you are doing from the list and click start. A red GPS icon flashes while the phone waits for a fix, this take from 30 seconds to a minute. The phone buzzes and the GPS icon turns to a solid blue when this is done. Accuracy is pretty good but there are no on screen maps or even GPS coordinates available but it will give you trip information. When you've finished your activity you can view the recorded data including calories burned and heart rate zones.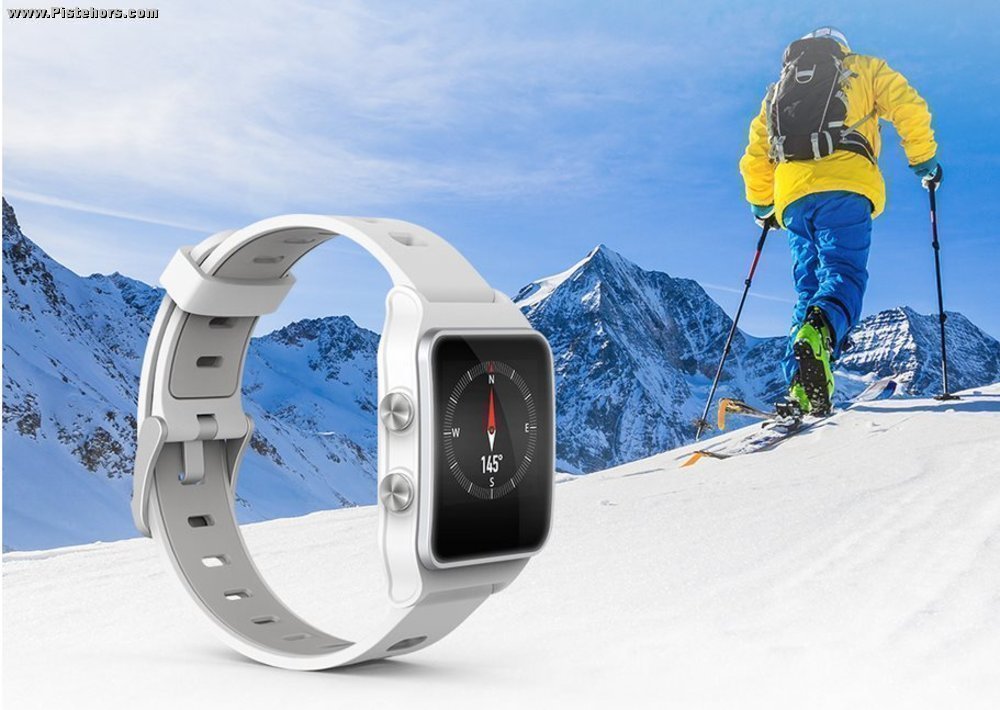 Yes, it has a compass
Other features of the watch are a compass, heart rate measurement and fatigue measurement (based on heart rate variation). You have a stopwatch and set set a variety of alarms from the phone application. You can also get notifications of emails and sms from the phone application. You can visualize graphs of steps and calories burned.

The phone application gives more information about recorded activities and will upload new activities to a linked Strava account. The application requires quite a lot of permissions which you may not be happy to give. It is also slow uploading activities to Strava, it takes at least 5 minutes, often longer and sometime never! On occasion it won't link to the watch, requiring a phone or watch restart. You can get a better breakdown of steps and sleep time on the application. Overall the application isn't brilliant but is typical of the apps supplied by Chinese manufacturers. It is also power hungry and difficult to disable due to it being linked to SMS and email alerts. It would be better if the data download and connection to Strava were done in a small app dedicated to the task, it could even merge heart rate data with a separate app for visualization on the phone. (note I've written my own app that does this so it is quite easy to do).

Battery life is good. It draws about 10% of its power per hour when recording with the GPS on. Enough for a day's skiing if you fully charge in the morning. Charging takes half an hour. There is a cradle to do this, which you risk misplacing but a USB port would be a source of water ingress and the watch is rated down to 5 ATM, so can be used to record swims, or triathlons. When used as a watch less than 10% battery is consumed per day, so one charge is good for at least a week of use.

Is the watch worth it? Three major points before you decide:
The watch doesn't record altitude. There is no barometer and it doesn't get altitude from the GPS. Garmin's own product manager says it is better to rely on calculated altitude via an application such as Strava than GPS altitude. This of course needs an accurate GPS track and this the watch does provide.
Heart rate is not recorded with the GPS track and samples are only taken every minute or so during an activity. If you want to do detailed training analysis you have the watch application, and that is it. So it may be a bit limiting for serious athletes and coaches training for a specific goal. I have not yet compared the measured heart rates for accuracy, they appear to be in the ballpark but a bit low compared to my chest strap.
The app is not great. Syncing is slow and erratic and the application drains the phone's battery.

For people wanting a general idea of how much they are walking/sleeping and what heart rate zones they are in there is probably enough information. Long term, the strap is a standard 20mm affair and replacements are available cheaply. The problems with the app make me feel that it would be better to spend a bit (lot) more money on a product from a reliable manufacturer such as Garmin. In short, great watch but poor supporting software which will leave you frustrated if you are a serious user wanting to link with third party applications.