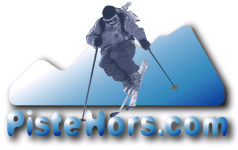 Posted on: 2021-05-19 19:51:47 by davidof
2 fatal avalanche incidents in the Haute-Savoie
Two people have been killed in separate avalanche incidents in the Haute-Savoie today.
At 10h30 two skiers were descending near the summit of the couloir des Cosmiques (3600m) from the Aiguille du Midi when the first skier triggered a slab avalanche. There has been considerable fresh snow over the last week accompanied by high winds. He was carried several hundred meters by the slide and buried under 2 meters of snow. Located by his companion and eye-witnesses the PGHM, who were rapidly on the scene, were unable to revive him. Both skiers were aged in their 20s and local to Chamonix.

A retired member of the PGHM was killed on the Cosmiques ridge at 12h45. The victim was buried in a couloir on the south face of the ridge under 1 meter of snow. The victim was names as 68 year old Alain Iglesis, well known in the region
for having rescued hundreds of climbers and skiers over the years. Stéphane Bozon, the boss of the Chamonix Mountain Rescue was shocked by the news, he didn't think Iglesis would be caught out by the current conditions in the Mont Blanc range. "He was climbing the Cosmiques ridge on crampons and probably felt safe but he triggered the slide at the top of a small couloir that he had to cross on his route. Since retiring he worked with La Chamoniarde (Société de prévention et de secours en montagne de Chamonix) sending reports of conditions in the Mont Blanc range. He climbed the Aiguille Verte over a 100 times. In February la Chamoniarde lost key and much loved staffer Anne Revilliod in an avalanche in the Combe de Barmerousse near Passy.

After 7 months of closure it was the opening day for the Aiguille du Midi cable car. The avalanche bulletin had warned of "winter conditions" above 2500 meters altitude with a number of layers of (frequently wind affected) snow sometimes separated by temporary weak layers. There has been around 60cm of snow above 1800 meters and the zero isotherm was just 2000 meters accompanied by strong winds from the west.
Comments