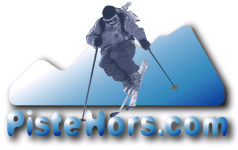 Posted on: 2021-04-27 08:14:56 by davidof
Warning: Couloir Lagarde, Droites, Chamonix
Since the start of the 2021 winter season, the PGHM has received eight alerts for climbers who are technically blocked or exhausted during the ascent of the Lagarde corridor, opposite the NE of the Droites. Some of the interventions have turned out to be complex and dangerous. Three of these groups were forced to descend by their own means in the couloir.
Faced with these repeated incidents, it seems useful to recall some obvious facts:
Even in good conditions, the Lagarde couloir remains a technical and committed climb - although it is in principle the most accessible route on the north face of the Droites.

The Rimaye can be complex and its traverse takes time. The snow couloir, although of moderate slope, is often difficult and hard to navigate. Many seriously underestimate the time required for its ascent. It is common for an average roped party to take more than 12 hours to reach the top (sometimes much longer).

The terminal mixed part can surprise by its technicality. In addition, route errors in this part are frequent and lead many climbers to come out too far to the right on the Tournier spur, whose terminal ridge can present great difficulties when it is snowy.

The route is 1000 meters vertical and exits at 4000 meters altitude. The descent is long and not trivial; more complex than that of the Aiguille Verte sometimes presented as equivalent.

In any case, the situation can quickly become very precarious in the event of bad weather or excessive fatigue. Climbing out is then very complicated.

In the event of unfavorable weather, a land rescue can take a very long time to reach possible victims. A simple cloud hanging from the wall can prevent any attempt by helicopter. It is therefore a serious route, for which it is advisable to prepare accordingly.
-- PGHM Chamonix
https://www.camptocamp.org/outings/1176885/fr/les-droites-couloir-lagarde-direct

Comments