Last Tuesday there were half a dozen avalanches reported in the French Northern Alps and another half dozen on the two days that followed but the big headline in the press was at la Clusaz: "A dozen persons caught in an avalanche, no-one injured"
The incident was in the Creuse bowl just to the north of the ski area. Two women in their mid twenties, ski instructors with the ESF were completely buried for a few minutes without injury. They were dropped at the car park by the rescue helicopter. It didn't sound dramatic until one of the girls, Ilona Gentil, a ski instructor with the ESF in la Clusaz posted a picture of herself on social media as well as an account of the terrifying experience.
There hasn't been a lot of snow this season but the weekend before the incident had seen a return to more wintry conditions with 60cm falling on the Sunday and Monday above 1800 meters accompanied by strong winds from the south-west. Tuesday was a perfect day. Sunshine and the bowls were charged with powder. However the bulletin announced risk 3 (Considerable) on all slope aspects and altitudes in the Aravis and warned of powder avalanches. The avalanche control on Monday at la Clusaz had got a lot of results above 2000 m with breaks of up to 80cm possible on Tuesday. An eye witness said that there was a weak layer of depth hoar at the entrance to the bowl but hardly any snow on top. The victims were climbing on skins at the time and were unable to escape the slab avalanche triggered by other climbing skiers.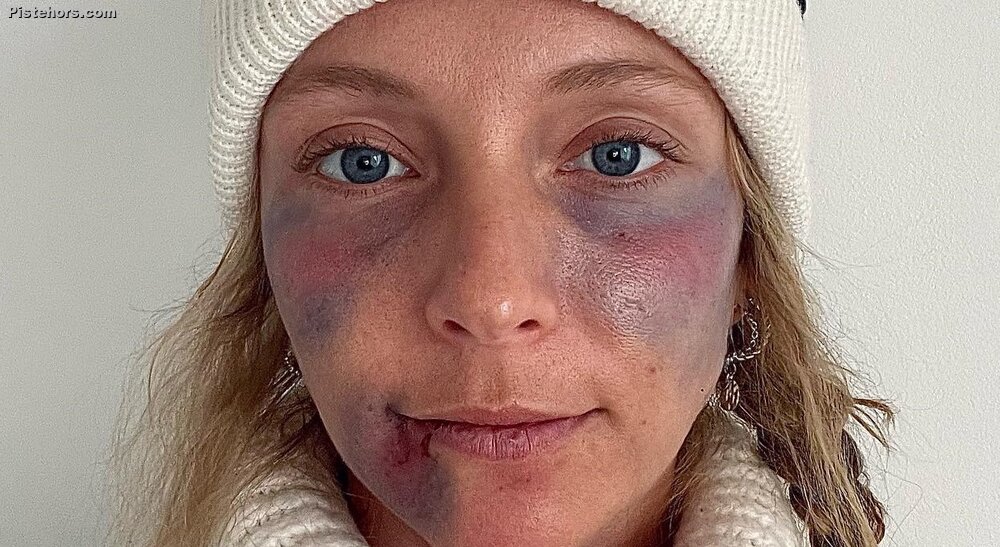 This account isn't to get your sympathy or even to make a sensation. No, nothing could be further from the truth. It is done with the aim of healing, of putting words to the unthinkable but also with the aim of warning others.
The mountains are dangerous.
A marvelous playground covered with white gold but it takes what is hers when she wants. A good knowledge of the mountain environment is therefore essential for any off-piste activity such as ski touring off the marked trails. However, it is important to remember that the mountain is a dangerous playground, where the rules are constantly changing.
January 10, 2023 will remain etched in my memory forever. I was the victim of an avalanche. Caught under about 1m of snow, I was rescued in 3 minutes that seemed like an eternity. Yes, nobody is invincible. It is not because we are mountain professionals that an accident cannot happen.
Just to be clear: everything, absolutely everything, had been done beforehand in order to avoid this situation as well in terms of security on the ground as in the instructions given.
I can never thank my 2 colleagues enough. I owe my life to them. I would also like to thank the emergency teams mobilized for their support and their reactivity.
13h13:
A boom that resounds.
A warning cry of "beware!".
An impressive mass of snow coming off the top of the wall and rolling without stopping.
The avalanche coming straight at us at a crazy speed.
It seems to grow in size, to widen, I feel its breath in my back.
I try to escape, on a skis, but Mother Nature is too powerful, everything rolls under my feet.
I know it now: it is too late.
I can feel my bare fingers in the snowpack. How long will they last before I lose my hand for good? Unable to move I simply say to myself: "I can't die like this"
Everything has stopped. It is dark, very dark. Everything is black and I can't breathe, the snow is compressing my whole body, my airways. I try to clear my mouth as best I can... in vain.
Around me everything is plunged in the darkest darkness, I do not know if I am upside down, in which position my body is. All I know is that I can't breathe. I can feel the snow rushing down my windpipe and I can't get it to go away
13h14:
Emergency call to 112.
"Avalanche, 2 young women buried
PGHM and Sécurité Civile were mobilized.
(2 helicopters)
During this time, I struggle. I fight not to fall asleep, I fight for my life. I survive.
After the panic phase, I manage to calm my mind down. "How long can you last under an avalanche again? Remember the courses of the ENSA". I have to find a way to survive. I hear my friend next to me screaming. I manage to clear a pocket of air at the level of my mouth and find the strength to expel part of the snow that was suffocating me. At this moment, I know that my friend is slightly more on the surface than me, I hear her. Then it just goes round and round in my head: "If it is not me who survives, I must give everything for her". I scream. I call for help as loud as I can, gathering my last strength. I am cold, terribly cold. My hand won't last long like this. But no matter, what's one hand at the expense of a life?
To end this post on a positive note: I do indeed have good stars watching over me all up there.
I was very afraid, I made a hell of a close call with death but did not want to shake his hand. More fear than harm, no physical damage except for a small facelift. A little way to go on the mental aspect but with determination and resilience I know I will get there.