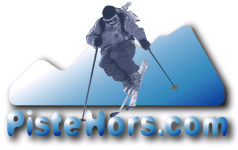 Posted on: 2022-11-04 20:07:35 by davidof
First snows, first avalanche fatality
A 29 year old trainee high mountain guide has been killed in the Ceillac region of the Southern French Alpes. The victim was a local. Resident of Val des Prés. The incident occured around 11:30 a.m. in the Sainte-Anne valley Font Sancte north couloir. Part of a group of two they were climbing the couloir when the avalanche struck. The guide was second on the rope and was carried 200 meters down the couloir.
The avalanche risk was 1. The bulletin warned of some natural activity due to the fresh snow on steep slopes with wind blow snow at altitude. Around 5 to 15cm of snow was expected.

A major rescue operation was put in place. First to recover the survivor, a German national then to locate the victim. The weather conditions were described as "difficult". The body of the guide was found by a rescue dog some two hours after the avalanche. An avalanche in the same sector in 2015 killed six members of the French Alpine Club.
https://pistehors.com/23702894/ceillac-avalanche-3-bodies-found

Comments